Originally posted on May 28, 2019
Good evening and welcome to the NC Demos Blog Hop.  If you have already been hopping along with us tonight I know you saw something amazing on Frances Wagner's blog.  She has inspired me for years!  May is a happy and sad month as a Stampin' Up! demo. We are all happy that the new catty will be out soon, but we are also a little sad to see some of our favorite products retire. So, this month we will be saying a fond farewell to our favorite retiring products from the Annual and Occasions Catalogs.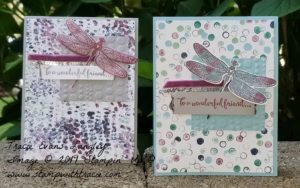 I have SO many favorite products in this year's catalog and just seem to always run out of time before I get to use everything each catalog year.  The worse of this is that I love Designer Series Paper and ribbon and promise myself each year I am only going to buy what I am going to use.  Well, then I get all the pretty paper and ribbon and hoard it because the project I am working on isn't special enough to use my very lovely things.  Well, I decided this year was going to be different and while I do still have some DSP and ribbon left from this catalog year, I have done much better than I have in pervious years sharing it and using with my customers and for my own projects.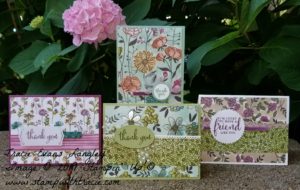 All of the cards on this post were created for my $1 Card Days that I hosted for the month of May. The basic idea was to use 4  x 5 ¼ inch card fronts made from the DSP and then adding a simple greeting or in the case of the Dragonfly Dreams card, one stamped image so that the card showed off all the pretty DSP.  All the card bases are cut 5 ½ x 8 ½ and scored at 4 ¼.
This is a great way to make a lot of pretty cards very quickly.  Just cut all your cardstock, stamp your images and put everything together.
Thank you for letting me share my cards with you.  If you have questions or would like help putting together the supplies for your own Cute Cards Quick please contact me.  I would love to help you!
Now, hop along with me over to Anita Trippi's blog!  I am sure she has whipped up something fantastic for us tonight!
One final thing before I go.  This is my last blog post at www.stampwithtracie.com.  Stampin' Up! will be discontinuing our blog feature as of May 27, so please join me on my new blog at www.thesassystamper.com starting June 1st.
Happy Stmaping!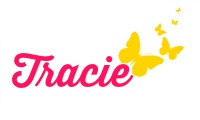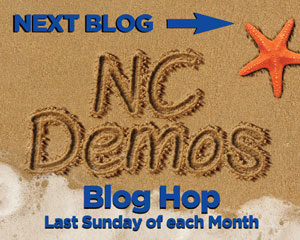 May 2019 Blog Hoppers
Jo Anne Hewins  https://luv2create.typepad.com/my_blog/2019/05/
nc-su-demo-blog-hop-a-fond-farewell-to-some-favorites.html
Tina Lesson  https://stampingkz.blogspot.com/2019/05/may-2019-nc-demos-monthly-blog-hop.html
Toni Campana  https://tonimariscreations.wordpress.com/?p=373&preview=true
Patricia Todd  https://stampinawesome.com/2019/05/26/nc-demos-blog-hop-celebrate-you-thinlit-dies/
Frances Wagner  https://wagstamps.blogspot.com/2019/05/nc-demo-may-2019-blog-hop.html
Tracie Evans Langley http://www.stampinup.net/esuite/home/traciesallaboutstamping/blog?directBlogUrl=/blog/86481/entry/nc_demos_may_2019_blog
Anita Trippi  https://www.stampinwithanita.com/2019/05/nc-demos-may-2019-blog-hop.html
Product List
NC Demos May 2019 Blog Hop – A Fond Farewell