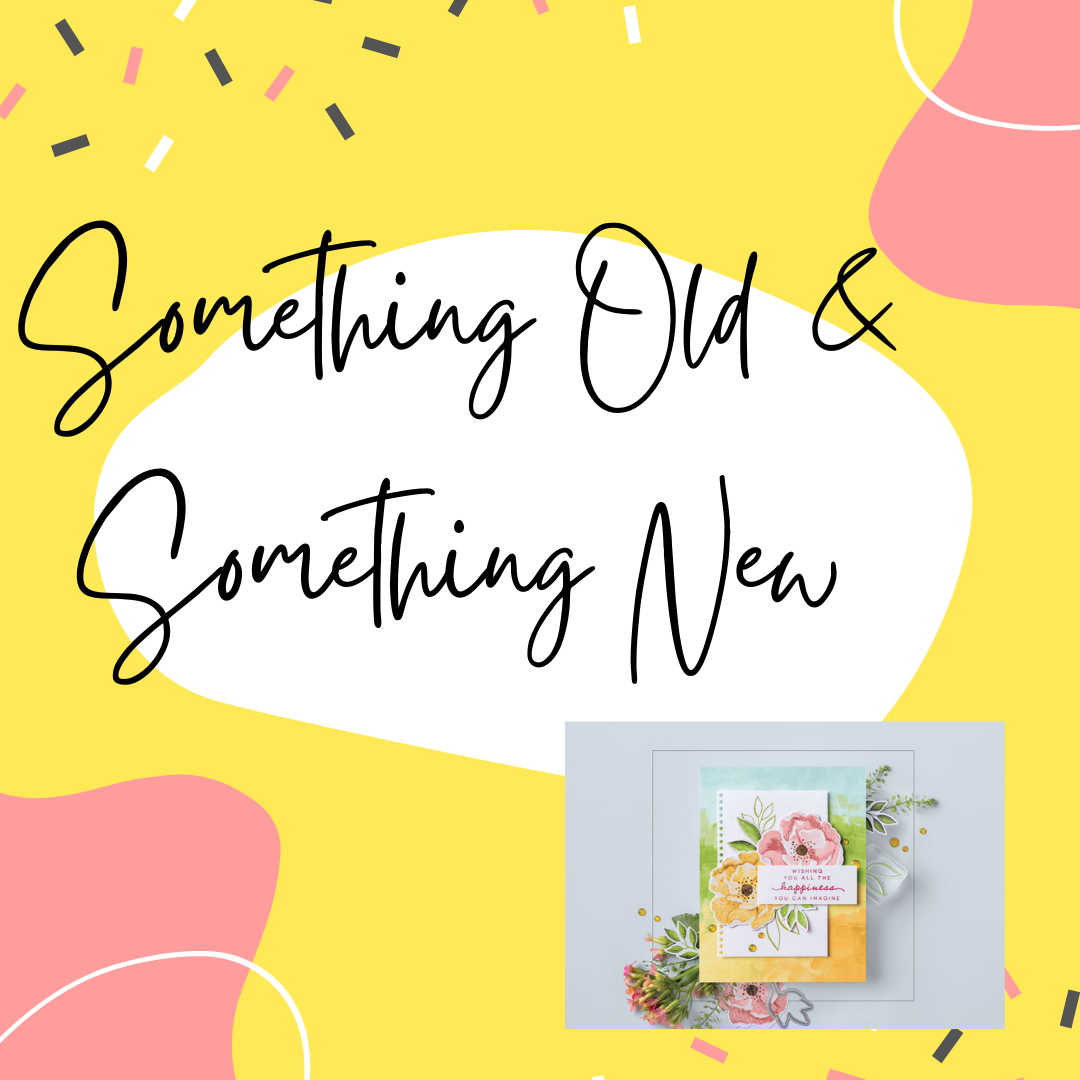 Good evening and welcome to the NC Demos May 2022 Blog Hop.  We really appreciate you taking the time to check out this month's hop.  Did you stop by to see what Kelly Taranto created this month?  Well, if not make sure you hop all the way through, so you don't miss it!
We are ALL excited about the new annual catalog and This is a great time to share how we are using what we already have along with the fantastic new things that we all have to have! So, for this month's blog hop theme we were to create a project using something old, a returning product, or something new, a product brand new to the 2022-2023 Annual Catalog. Our project could be anything and you can use any combination of new and returning products!
I decided to share the Summer Fun Sampler I created for the class that took place last Wednesday.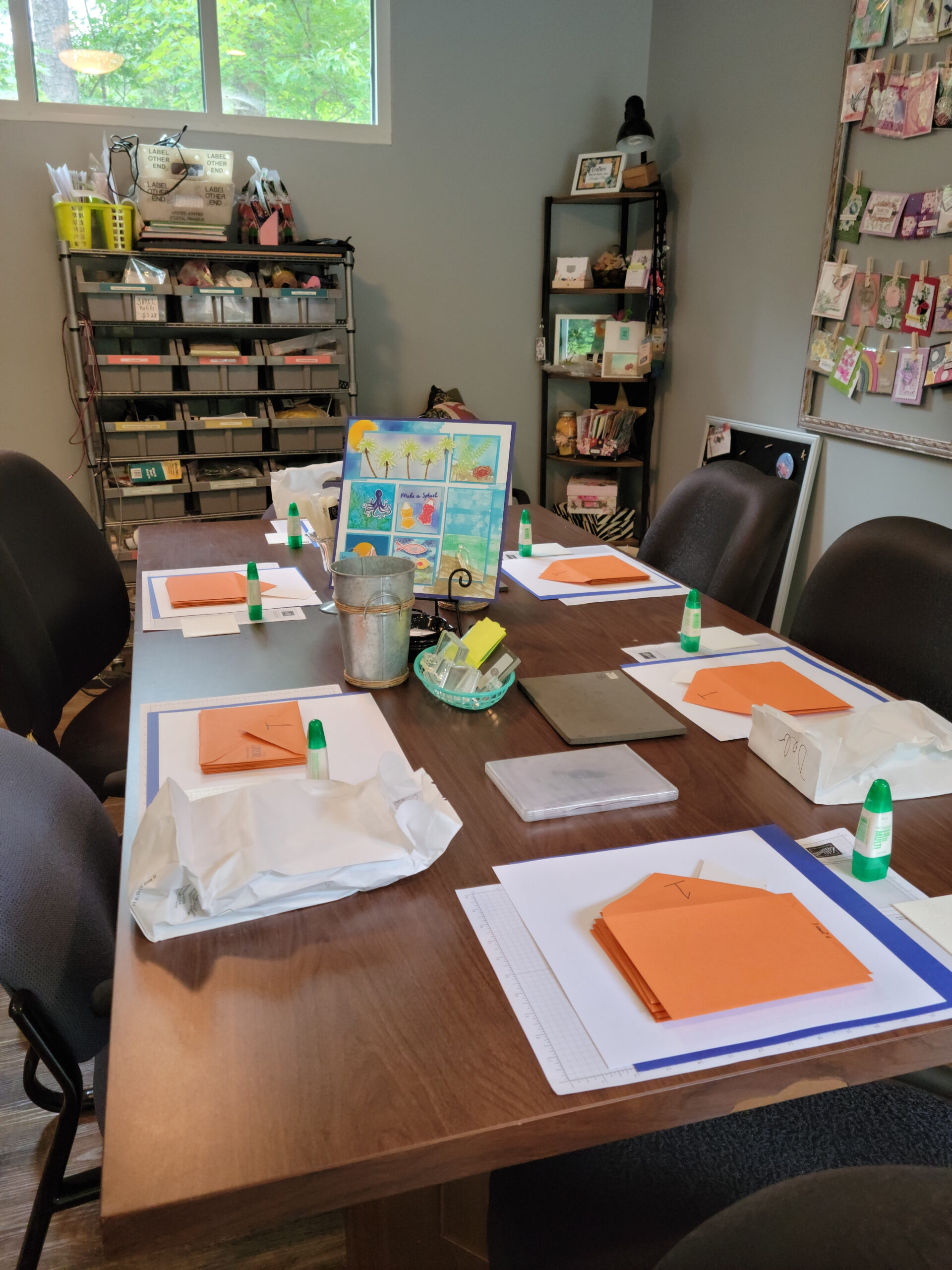 It was my first sampler class since February of 2022 and I was SO excited to have a full house!  We had so much fun chatting and working together.  I did get a picture of the table before everyone got here, but then totally forgot to take pictures of everyone stamping!
This project uses a few things that are old, a LOT of things that are new and a few things that will be retiring this coming week, too!  I am a little obsessed with the 2022-2024 In Colors and LOVE how well they mix and match with returning favorites to create this bright and cheerful project.
If you have read any of my previous posts on my samplers you might remember that I love to name or come up with little stores or titles for each square.  This one does have titles and the Bathing Beauties square was inspired my dear friend and team member, Rachael.  She let me borrow and then keep a vintage swimsuit for a party year ago.  I love it and it still hangs in my dressing room to remind of a fabulously fun party!
The base piece of this project is 12 x 12 Starry Sky.  The Basic White layer is 11 1/2 x 11 1/2.
I used a Masking Technique and Mango Melody Ink to create the sun in the top left corner.  The sky around the sun is stamped with the sky stamp from Ocean front in Tahitian Tide then I add a little Orchid Oasis ink with a Blending Brush.
The bottom right corner of the Basic White is stamp with the Oceanfront stamp set, Crumb Cake, Coastal Cabana and Tahitian Tide ink.
The Basic White piece is attached with Dimensinals.  All of the Tahitian Tide squares and attached with Multipurpose Glue.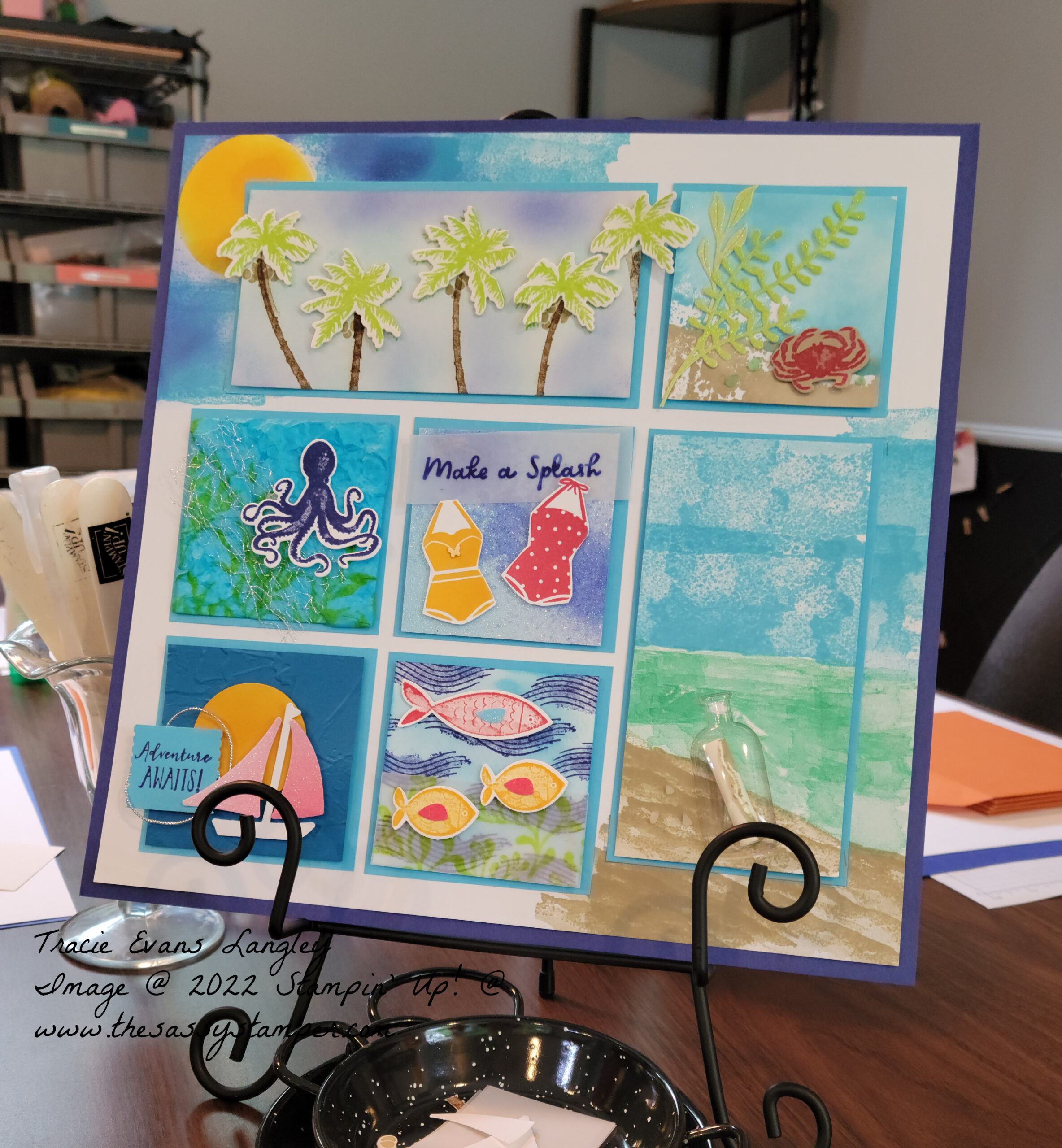 Now to make all the fun squares!
#1 Sunset Palms
Paradise Palms stamp set
Palms Dies
Tahitian Tide 3 1/4 x 6 1/4
Shimmery White 3  x 6
Scraps of Shimmery White for palm trees
Stamp two large and three small palm trees in Parakeet Party onto the 3 x 6 piece of Shimmery White cardstock.  Do the same onto a scrap of Shimmery White cardstock and cut them out using the Palms dies.
Stamp the tree trunks in Soft Suede and the coconuts in Crumb Cake.
Use Tahitian Tide and Starry Sky ink with Blending Brushes to create the early evening sky.
Attach the die cut palm fronds with Dimensionals.
#2 A Little Crabby
I don't know what it is about this little guy, but I just love him and am so sad that he and his octopus friend along with the other great stamps and dies in the Seas the Day Bundle.
Seas the Day Bundle
Tahitian Tide 3 1/4 x 3 1/4
Basic White 3  x 3
Parakeet Party Glimmer Paper
Crumb Cake Scrap
The background for this square is created using Clear Block E, Tahitian Tide and Crumb Cake ink and a Stampin' Spritzer filled with water.
Ink up a portion of the Clear Block E with Tahitian Tide ink, spritz it with water and stamp it onto the 3 x 3 Basic White Square at an angle.  You want to let the block sit on the paper for a moment to let the paper absorb the ink.  Wipe any re.maining ink off the Block
Repeat the above process using Crumb Cake ink and set aside to dry.
Stamp the crab onto a scrap of Crumb Cake cardstock in Sweet Sorbet and die cut.
Die cut the plants out of Parakeet Party Glimmer Paper.
Attach the scene to the Tahitian Tide square with Dimensionals.
Attach the plants using Multipurpose Glue and the crab with Dimensionals.
Finally, add a few of the Faux Sea Glass Shapes.
#3 Inky Hugs
Seas the Day Bundle
Tahitian Tide 3 1/4 x 3 1/4
Basic White 3  x 3
Tissue Paper from the May 2022 Paper Pumpkin
This is my recycle square!  My team and local customers know that Faux Silk is one of my favorite techniques ever and when I realized that the May Paper Pumpkin tissue paper was Tahitian Tide I knew I had to use it for this project!  This is a REALLY easy square to make!
Stamp seaweed in Parakeet Party ink onto the tissue paper.
Crumble up the tissue paper.  Don't smooth it all the way out.  You want the wrinkles!
Add a little more texture by doing Direct to Paper with Tahitian Tide ink on the raised edges of the tissue.
Smear Multipurpose Glue onto the Basic White 3 x 3 square.  Then gently lay the tissue paper on top of it.  Do not smooth out the tissue paper!  Set it aside to dry.  Hint, use a Silicone Craft Mat for this step.  It will keep your work area nice a neat and you will not have tissue stick to everything!
Once the glue has dried a bit  you can either glue or tape the tissue paper to the back of the Basic White cardstock then layer this piece onto the Tahitian Tide square with Dimensionals.
Stamp the octopus in Starry Sky ink and die cut.
Add 3 inches of Metallic Mesh Ribbon (LOVE this stuff!) with a bit of Tear & Tape.
Attach the octopus with Dimensionals.
#4 Bathing Beauties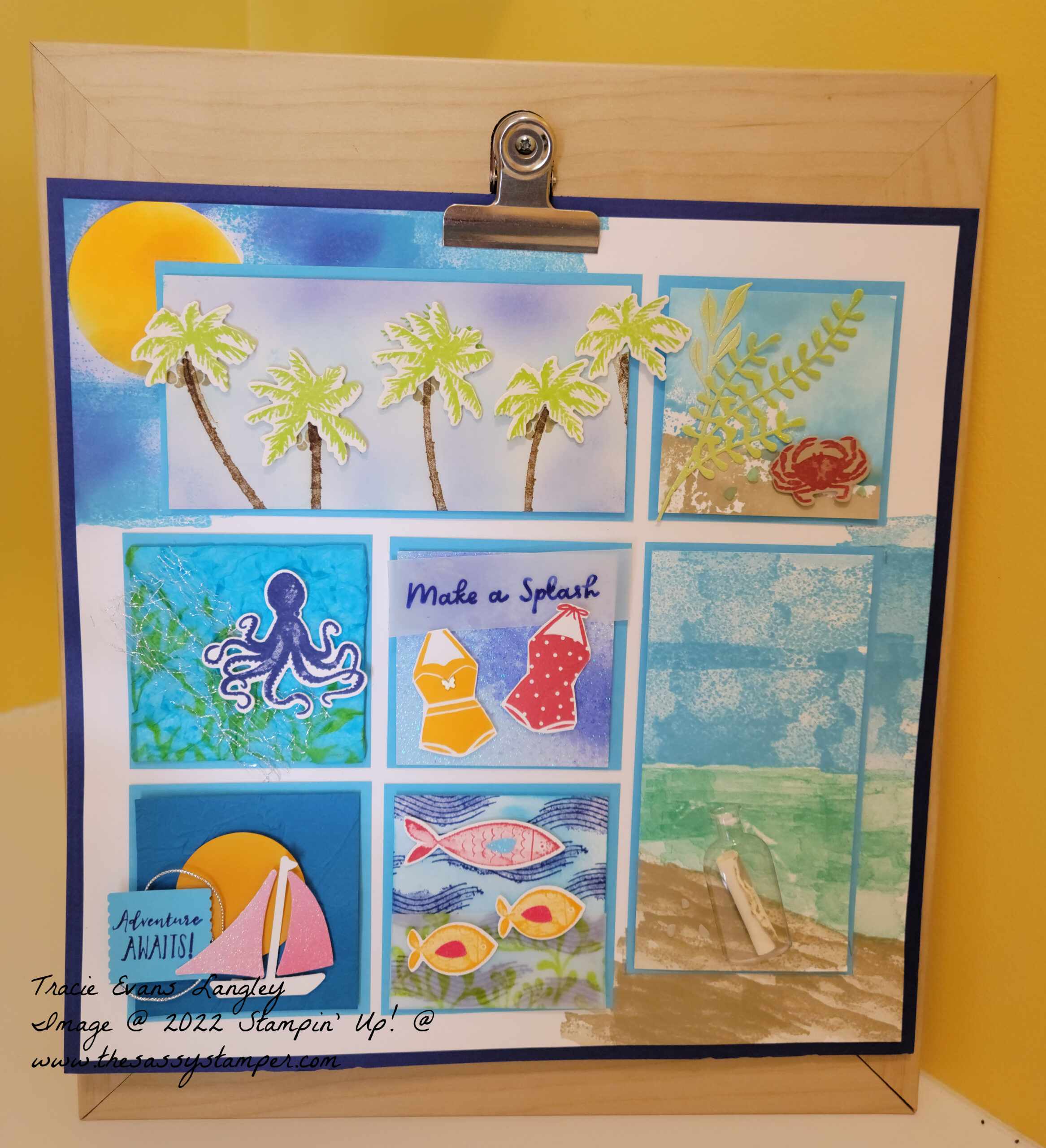 Sunny Splash stamp set
Tahitian Tide 3 1/4 x 3 1/4
Tahitian Tide glimmer paper 3 x 3
Velum cardstock 1 x 4
Spritz with starry sky Reinker and alcohol then set it aside to dry.
Stamp Make a Splash in Starry Sky on Velum. Use the Stamparatus. After the ink dries attach the vellum with Tear & Tape or Stampin' Seal.
Stamp the swimsuits in Sweet Sorbet and Mango Melody on a piece of Basic White and then fussy cut them out.  Don't forget to add your little Brushed Brass Butterfl.
Attach squares and bathing suits with dimensionals.
#5 Adventure Awaits!
Let's Set Sail Bundle
Painted Texture 3D Embossing Folder
Layering Circles Dies
Rectangle Postage Stamp Punch
Tahitian tide 3 1/4 x 3 1/4
Pacific point 3 x 3.
Emboss the Pacific Point cardstock using the Painted Textures 3D folder and attach to the Tahitian Tide square with Demensionals..
Use blending brush to apply Mango Melody ink  to Crushed Curry circle to add depth to the sun.  Attach the sun with Dimensionals.
Punch out sailboat from from Basic White and punch out the sails from Sweet Sorbet Glimmer Paper.
Add the sailboat after the sun and use a little dab of glue behind the flag.
Stamp Adventure Awaits onto a scrap of Tahitian Tide in Starry Sky ink then punch out with the Rectangle Postage Stamp Punch.
Attach the piece of silver twine from the Simply Elegant Trim pack to the back of the Adventure Awaits tag with Tear & Tape. then add to your square Dimensionals.
#6 Fishy Friends
I love that this fish can be punched out and then turned in any direction!
A Fish & A Wish Bundle
Tahitian Tide 3 1/4 x 3 1/4
Basic White 3  x 3
Vellum 1 1/4 x 3
#7 Message in a Bottle
Oceanfront stamp set
Vintage Bottle Punch
Tahitian Tide 3 1/4 x 6 1/4
Basic White 3  x 6
Very Vanilla 2 x 1 1/2
Stamp sand in Crumb Cake, the water in Coastal Cabana and the sky in Tahitian Tide.
Create the frame for your bottle using the bottle punch. Go ahead and remove the adhesive from the front side of the bottle and attach it to your oceanfront frame.
Attach the piece that you have punched out to the small piece of white card stock.
Tear and ink the 2 x 1 1/2 piece of Very Vanille cardstock. Use the bone folder to curve the paper.
Add a little adhesive to your message and attach to the punched out bottle piece.
Remove the adhesive from the backside of your vintage bottle shaker call shaker and attach attach your punched out bottle and note piece.
Layer the ocean front frame onto your Tahitian tide block using Dimensionals.
Finally, add a few of the Faux Sea Glass Shapes.
I am all done for this month, but you aren't!  Come hop along with me to see what Tina Lesson is sharing this month!  I know it will be fantastic!
Thank you again for join us tonight!  See you next month!
Happy Stamping!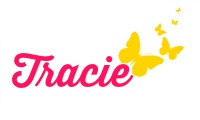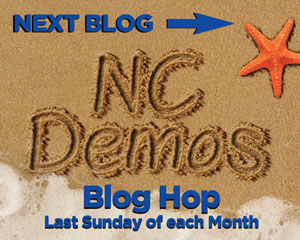 May 2022 Blog Hoppers
Tina Lesson
Jo Anne Hewins
Amanda Howard
Toni Campana
Kelly Taranto
Tracie Evans Langley
Product List
NC Demos May 2022 Blog Hop – Something Old & Something New