Hello, and welcome to our January Blog Hop!  We are so glad you are here!  If you haven't already done so hop all the way around and check out
Tina Lesson's
post for this month.  I know it's great!!
Our January theme was inspired by a card created by Laurie Meier using a masking technique. It was such a lovely card and reminded me how much I love masking techniques. They are something you can totally teach a beginner, but even the most advanced of stampers continue to use and enjoy them as well.Our project could  be ANYTHING, but had to share a Masking Technique.
This is the project Laurie shared a few months ago.  I just love it!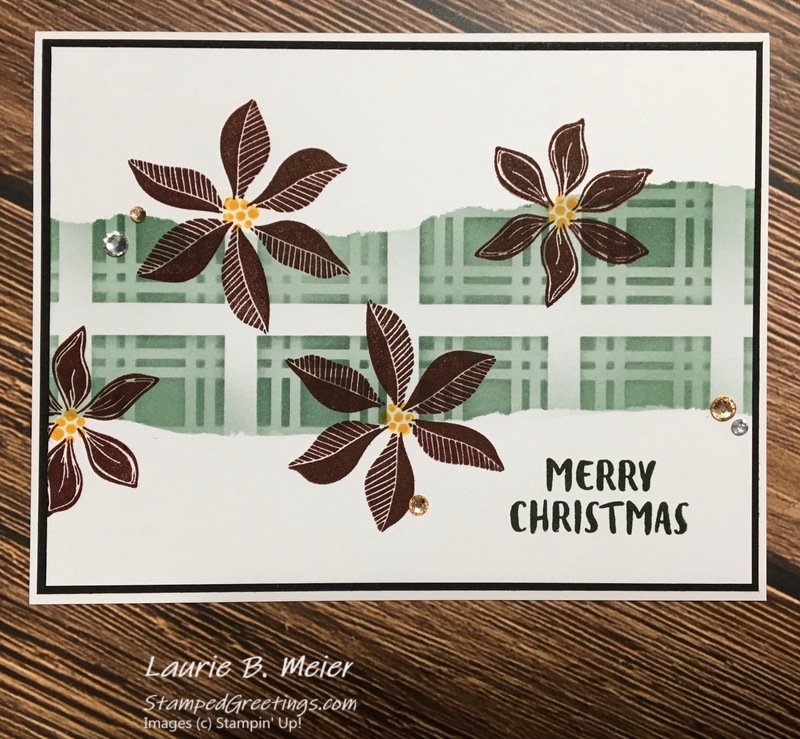 The created the card I am sharing for our World Card Making Day event last October.  I haven't had a chance to share it and thought this would be a perfect time.
Here are all the the measurements and directions for creating this card.
Season of Seashells Card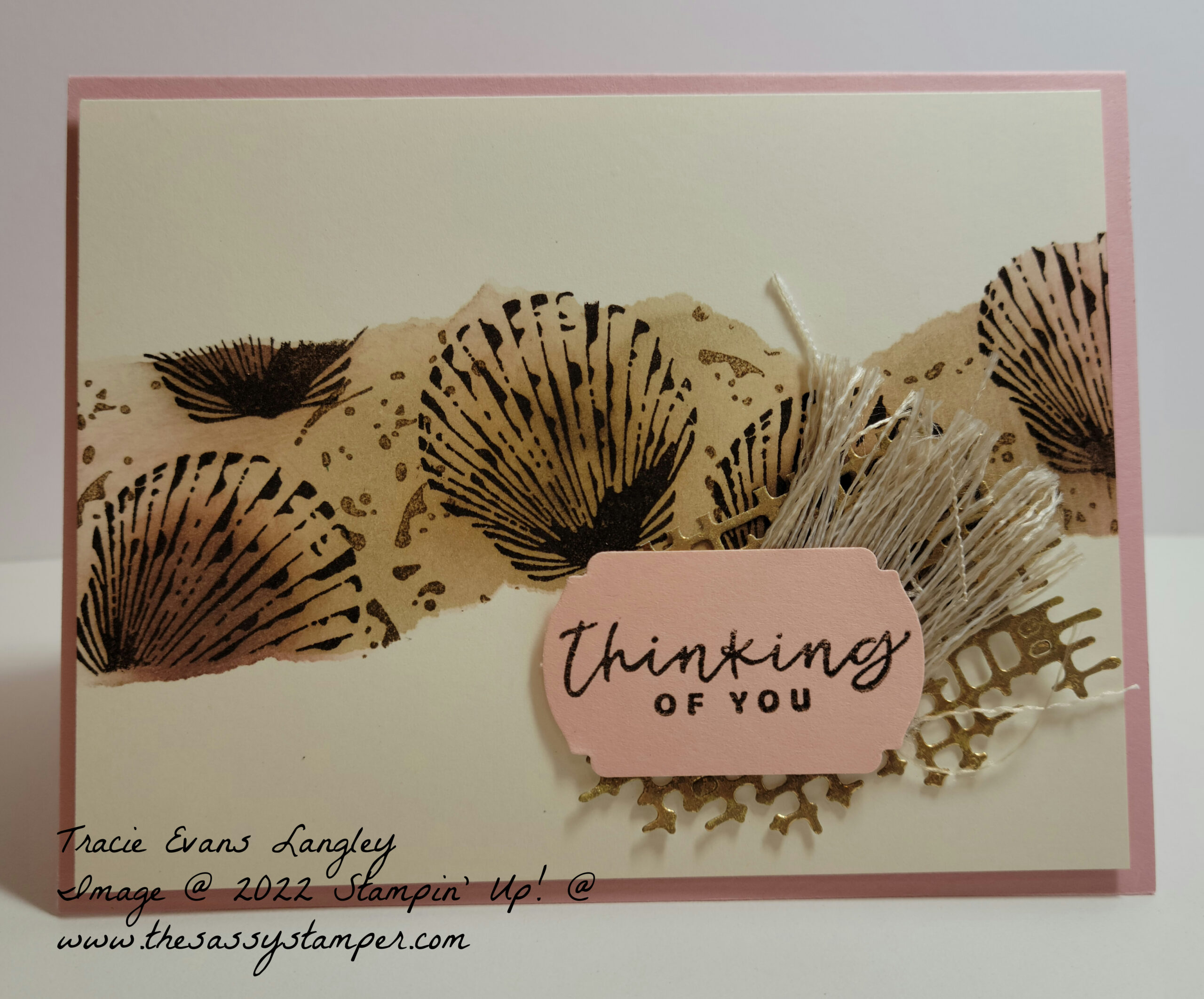 Supplies:
Season of Chic stamp set
Chic Dies
Label Me Fancy Punch
Blending Brushes
Ink: Blushing Bride, Crumb Cake, Early Espresso, Soft Suede
Scrap Paper
Measurements:
Blushing Bride 5 1/2 x 8 1/2 and scored at 4 1/4
Very Vanilla 4 x 5 1/2
Petal Pink 1 1/2 x 2 1/2
Distressed Gold Specialty Paper 3 x 4
Natural Finish Ribbon 3 inches.
This card used a Masking Technique. First, tear a sheet of scrap paper in half on the long edge and use washi tap to cover the top and the bottom of the Very Vanilla cardstock.
Stamp the outline image of the seashell from Season of Chic in Early Espresso. Stamp the fleck/spots stamp in Soft Suede.
Use a Blending Brush to apply Blushing Bride over the stamp images. Then do the same with Crumb Cake ink.
Remove the scrap paper from your card.
Stamp the "thinking of you" stamp onto the small piece of Petal Pink in Early Espresso then punch it out using the Label Me Fancy Punch.
Fray the ends of the Natural Finish Ribbon on both ends. Leave a little unfrayed so you have enough to attach the ribbon to the Petal Pink Label.  Set aside.
Attach the stamped Very Vanilla cardstock to the Blushing Bride cardbase with Dimensionals.
Cut the cross hatch die cut piece of Distressed Gold paper in half and adhere to the Very Vanilla layer using Multipurpose Glue, Tear & Tape or Glue Dots.
Finish off the card by attaching the Petal pink label.
Thank you for letting me share this card with you.  I hope I have inspired you to try a masking technique, too!  It is SO fun and easy!  If you have questions or need help placing an order please contact me.  I would love to help you!  Don't forget that we are in the middle of Sale-A-Bration!  You can receive FREE product by doing something we all love to do, buy stamping supplies!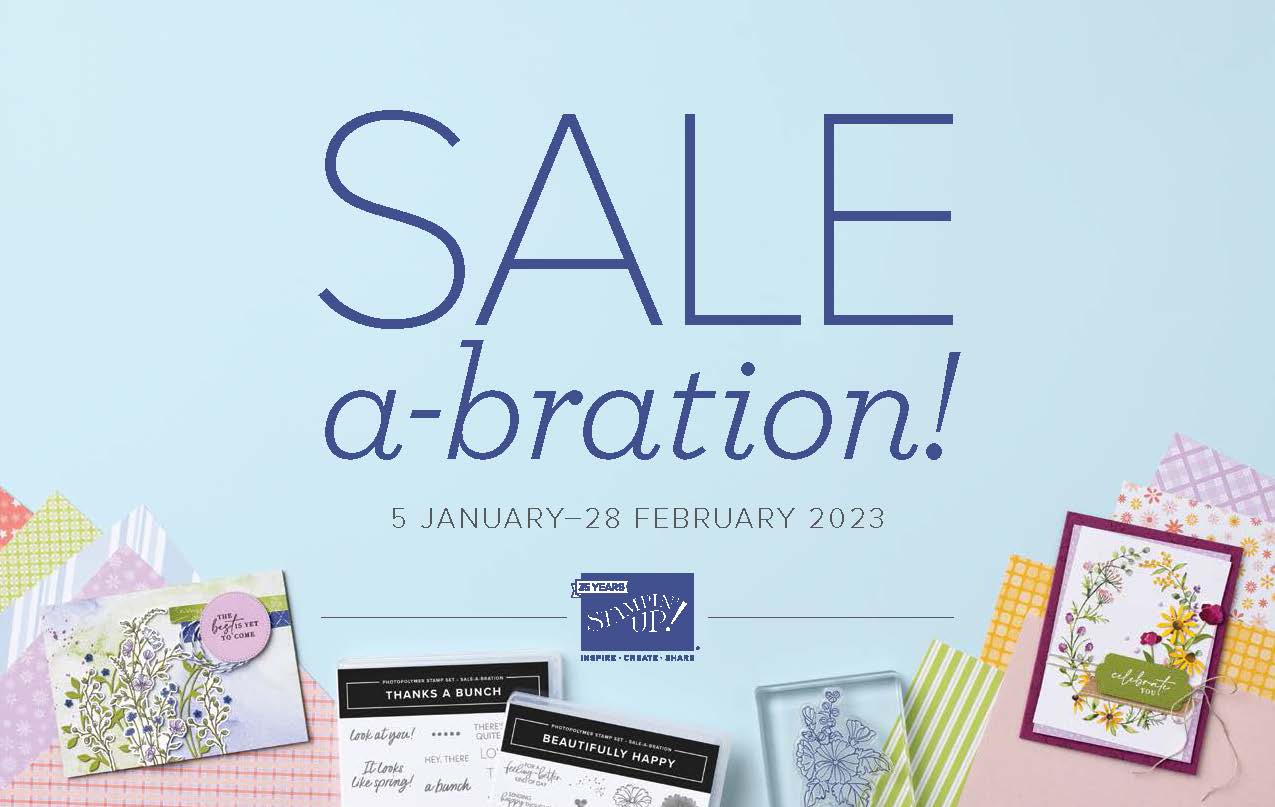 Check out all this year's goodies at my Online Store!  Use this month's Hostess Code: EMB3NMKM and receive a sursie from me!
I am all done and am off to see what Laurie Meier has to share with us.  I am sure it is sensational!
Stay Safe & Crafty!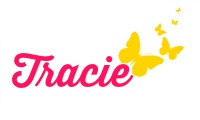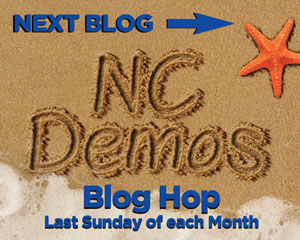 Product List
NC Demos January 2023 Blog Hop – Life's A MASK-querade!