Welcome to the June edition of the NC Demos Blog Hop.  This month is ALL about the new 2019-9020 Annual Catty and all the fantastic stamp sets and products.  I really love this year's catty.  It might be my favorite yet!  If you stopped by Tina Lesson's blog already you have already seen what I mean.
I am sharing the Card in a Box that I made with my Terrific Techies this month.  I think it is a grea example of how you can mix and match new things with things you already have from previous catalogs.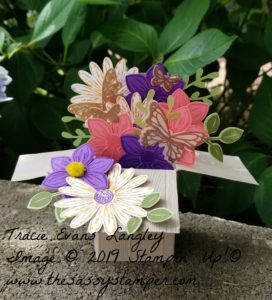 Here are all the measurements to create the box.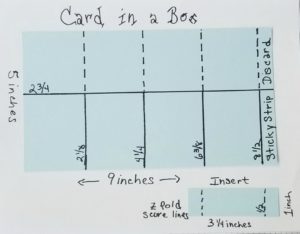 A couple of quick tips for putting the box together are to use Tear & Tape on the small bottom flap and tuck it to the inside so you don't see it.  Tear & Tape is also used to attach the little Z fold pieces to the inside of the box.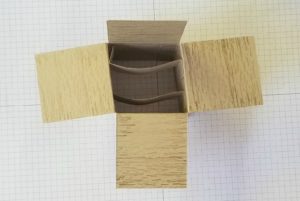 Once I had my box assembled I stamped, punched and put my flowers together using Multipurpose Glue.  I then stamped and punched my leaves and punched the springs out of the Perennial Essence Vellum.  Finally, I stamped my butterflies on the vellum with VersaMark and embossed them with Copper Embossing Powder and then punched them out with the Butterfly Duet Punch.
With my box built and my flowers, leaves and butterflies done it was time to to put it all together..  I started by adding the daisies, then the Gorgeous Grape and Flirty Flamingo flowers.  I used a combination of Mini ando regular Dimensionals to attach the flowers to the box. Next, I added the leaves and sprigs attaching them to the flowers with Glue Dots.  I then added the butterflies using Glue Dots to attach them as well.  I finished up by project by added the cute little Perennial Essence Floral Center to the Gorgeous Grape Flower on the front flap of the box.
There are a couple of things my techies did differently when they made there boxes that made them even better.  They used the water stamp from High Tide stamp set to make the wood grain pattern on my box instead of using the Pinewood Planks embossing folder.  They also just stamped the butterflies in Memento Tuxedo Black Ink instead of embossing them as it showed off the lovely vellum cardstock much better.
This card WILL fit into a standard envelope!  Just make sure that as you attach your flower on the back flap that it isn't higher than 5 1/2 inches.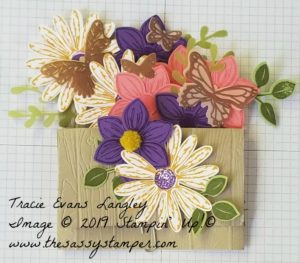 Well, my post has come to an end, but we aren't done yet!  Hop along with me to see Jo Anne Hewins' project.  I know it will be fantastic as always!
If you have questions or need help creating your own Card in a Box or other projects please let me know.  I would love to help you!
Happy Stamping!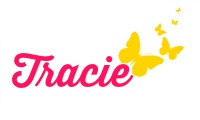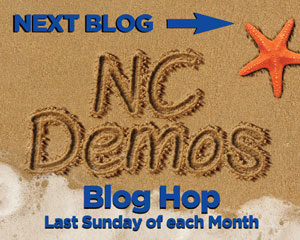 This Month's Blog Hoppers:
Erin Cook – http://www.artsyacorndesignstudio.com
Tina Lesson https://stampingkz.blogspot.com/2019/06/june-2019-nc-demos-blog-hop.html
Tracie Evans Langley  -https://thesassystamper.com/2019/06/30/nc-demos-june-2019-blog-hop-mixing-the-old-with-the-new
Jo Anne Hewins –
Thttps://luv2create.typepad.com/my_blog/2019/06/nc-demo-blog-hop-for-june-sailing-home-1.htmloni Campana – https://tonimariscreations.wordpress.com/?p=391 <https://tonimariscreations.wordpress.com/?p=391&preview=true> &preview=true
Frances Wagner – https://wagstamps.blogspot.com/2019/06/nc-demo-june-2019-blog-hop.html
Sue Root – https://stampin-with-sue.blogspot.com/2019/06/nc-su-demos-june-blog-hop-new-favorites.html
Product List
NC Demos June 2019 Blog Hop – Mixing the Old with the New