Hello and welcome to the NC Demos July Blog Hop! I need to start my post by thanking my NC Demos friends participating this month.  They are the most kind and patient ladies you will ever meet.  I had a very fun, but long weekend and when I finally sat down to finish my post last night I could not find my card samples.  Yes, I had procrastinated taking pictures of them.  And so at 7:45pm I had to ask the other ladies to take me out of this month's list.  They all were so nice, told me to get some much needed rest and finish my post this morning.  So, I did find my samples this morning, they were in my Stampin' Up! Catalog rack???, and now have them to share with you!  So, thank you,, Jo Anne, Tina, Libby, Frances and Anita.  I love this month's challenge for our hop and I appreciate you helping me participate!  You are all amazing and one of the things I love about being a demo is that I have the chance to have friends like you!
Now, on to my post!
We have ALL been there. You have a birthday, wedding or other card giving occasion or are holding an event and need to make samples, but you have NO idea what to make. So, what do you do? Well, you get on the CASE (Copy And Share Everything!) Go look at the Annual Catty, Pinterest, Facebook, Instagram, etc… and make a project you find! Sometimes you make the project exactly like your inspiration, but sometimes it's totally different by the time you are done.
So, this all leads to this month's challenge for the July Blog Hop: If you stopped by Anita's blog you already know all this, but just in case you didn't here are the details about this month's challenge!
1 Go find a project you love and that inspires you. It can be a card, decor item, 3D item, tag, gift bag. Whatever you like!
2. Make the project EXACTLY like it is.
3. Then make a second project inspired by your CASEed project. Make it your own. Change the paper, stamp set, colors, embellishments etc….
I saw a Patriotic Daisy Lane card done by Dawn Olchefske a few weeks ago and fell in love with how pretty, simple and cheerful it was.  So, I borrowed the Daisy Lane set fr)om my friend, Barbara (yes demos borrow from our friends, too) and made the card exactly like she did.  I am including her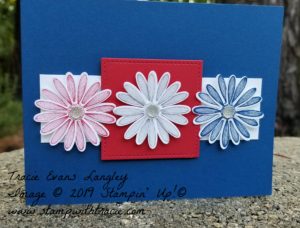 Patriotic Daisy Lane card:
Bundles:Daisy Lane Stamp set with Medium Daisy Punch Bundle (SAVE 10%)
Paper:

Blueberry Bushel (8-1/2″ x 5-1/2″ card base)
Whisper White (5/8″ x 4-3/4″ and scraps for punching)
Real Red (scrap for 2-1/8″ Stitched Shape Die square)

Ink: Real Red, Basic Gray (stamp off), Blueberry Bushel
Other: Clear Faceted Gems, SNAIL, Glue Dots & Stampin' Dimensionals
After I made Dawn's card, I started thinking about how much a loved the layout and how it would be great tweaked a bit to use with the pieces I had left over from last month's Come Sail Away card.  So, I changed the size of the square (my DSP is 3 x 3) and I used the rope die cut piece instead of the strip of white cardstock.  Finally, I used my twine, sailboat and the wheel as my three pieces to replace the daisies.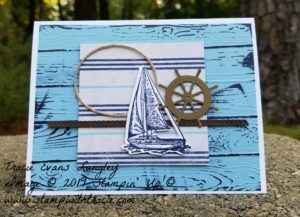 This is what I love abut CASEing.  You can start out with one thing and then end up with something so different, but equally wonderful!
Thank you for letting me share my cards with you!  Don't forget to see all the other fabulous projects from this month's hop starting with Jo Anne!  I am sure you will want to do some CASEing of your own!
If you have any questions, need help with a project or need to place an order please let me know. I would love to help you!
Happy Stamping!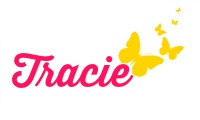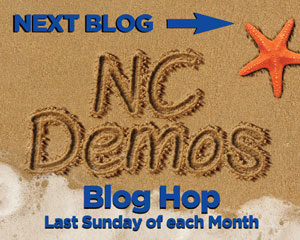 July Blog Hoppers
Jo Anne Hewins  https://luv2create.typepad.com/my_blog/2019/07/nc-demo-blog-hop-for-july-a-lesson-in-caseing.html
Tina Lesson  https://stampingkz.blogspot.com/2019/07/july-2019-nc-demos-blog-hop.html
Libby Foreman https://papersunshineproject.blogspot.com/2019/07/nc-demos-blog-hop-july-2019.html
Frances Wagner https://wagstamps.blogspot.com/2019/07/nc-demos-july-2019-blog-hop.html
Anita Trippi https://www.stampinwithanita.com/2019/07/nc-demos-july-2019-blog-hop.html
Tracie Evans Langley  ttps://thesassystamper.com/2019/07/27/nc-demos-july-20…p-im-on-the-case/
Product List
NC Demos July 2019 Blog Hop – I'm on the CASE!