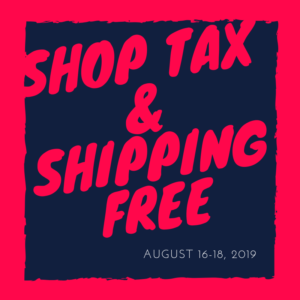 The North Carolina Legislature may have no longer give you a break and have a Tax Free Weekend, but I do!  So, starting Friday, August 16th at 12:00am to Sunday, August 18th at 11:59pm place ANY order, no matter how large or small or which products you choose and get them
TAX & SHIPPING FREE!
 Just a few rules:
1.  You MUST call, text, or email me your order to receive this special offer.
2.  You may not use previously awarded gift certificates or coupons from me
3.  YES, you can get the Starter Kit & join the Stamp Pad Society 
TAX FREE!
4.  YES, you can use your Bonus Bucks
from Stampn' Up!
5.  I must either have a current credit card 
on file 
for you or you must bring me payment for your order by Sunday August 16th at 6pm.
So, so get out that catalog and get your order ready!  If you don't have a catalog handy visit my Online Store!
Tax Free Weekend is Here! Only at the Stamp Pad!