Thank you for taking time to stop and smell the flowers with us for this month's NC Demos Blog Hop!  I am sure you saw something marvelous if you popped by Frances Wagner's post before stopping here!
Why did we pick this theme for August?  Well, we are all just so busy and now it is time to start heading back to school and before you know it the holiday will be upon us, so we all should take a minute to enjoy life and the beauty around us.  For me personally it has been a very busy summer, with lots of family and friends visiting, working and then hosting a wedding at our house yesterday afternoon and into evening.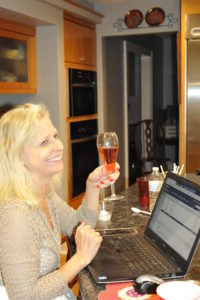 My friend Rachael, also our wedding photographer, actually snapped this pic of me working to get the links for this blog hop out to the rest of this month's hoppers at 11:15pm or so last night.  So, I think after working to entertain 60 or so people at my house and working so late I definitely need to stop and smell the flowers and enjoy a little glass of bubbly while I am at it!
So, now you know why I need to take some time out to enjoy life and at the same time find some inspiration in the flowers around me I want to share a few pictures of the hibiscus that I have on my back deck this summer.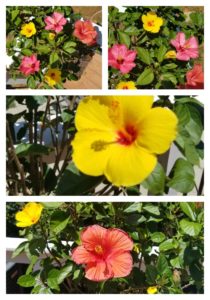 It may be one of my favorite plants ever!  My dear hubby, Jay, bought it for me back in April and I have enjoyed seeing what colors and how many blooms I have each day.  Some days it has been none, but most days it has been at least one or two and then there have been days like in the photos I am sharing here where there have been five or more blooms and they have been multiple colors!
So, I sat down and started to think about how I could create my own hibiscus for a card.  I wasn't sure where to start and then we got to see the 2019 Holiday Catalog and there it was!  An amazing stamp set to create flower pots and topiaries called Beauty & Joy!  I was so excited, and naturally, had to put it on my preorder!  Getting to order products early is DEFINITELY a perk of being a demo, just in case you need a reason to purchase your own Starter Kit!  If you have been thinking about getting your Starter Kit and becoming a part of the Stampin' Up! family this is a fabulous time to do it!  The Extra, Extra promotion runs through August 31st.  If you have questions about the Starter Kit or being a demo I would love to talk to you!  Contact me!
Okay, sorry!  I get excited about being a demo and want to share the fun with everyone, sometimes!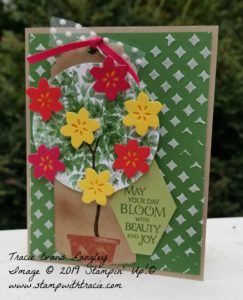 So, first I cut a 2 x 5 1/4 piece of Crumb Cake and punched the top with the Delightful Tag Topper.  Then I used my Stamparatus to stamp the basket from Beauty & Joy in Terracotta Tile, then sued a sticky note to mask it and stamped my topiary trunk using the branch from Colorful Seasons in Early Espresso.  Next I stamped the leaves from Beauty & Joy in Garden Green.  Note, when making this card again I will cut the circle first and then stamp my leaves.  I then cut out my flowers using the Seasonal Layers dies and punch the circles to go behind them with the 1/2 inch Circle punch. The flowers and circles are put together with Multipurpose glue and then have Mini Dimensionals on the back to attach them to the topiary. My circle of leaves are attached to the tag with Dimensionals.
Okay, so somewhere in the process of stamping and cutting, I decided to use Embossing Paste and the lattice from the Pattern Party Decorative Masks to create my background.  I would suggest doing this step first, so it will be dry while you are creating the other elements for your card.
Once my tag was all done and the Embossing Paste was dry on my Garden Green cardstock I started playing with the greeting and came up with turning the Tailored Tag Punch.  I have to tell you that I haven't used this punch like this before, but I really like it on this card!
So, my final steps were to adhere all my pieces to my card base.  I used the Multipurpose Glue to attach the Garden Green piece, and both tags.
Please let me know if you have questions, need help making this on any other project or would like to join my team, the Stamp Pad Society!  I always love to chat via phone, email or text!
I am off to spend a few minutes with my God children before this month's blog hop goes live.  Then I will be ready to check out what everyone else created this month starting with Anita Trippi.  She was the first one to send me her link, so I know she was excited about this theme and her post will be awesome!
Thank you for taking time to let me share my inspiration and project with you.  I hope I you will take time to find something around you that sparks your own creativity this week!
Happy Stamping!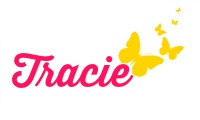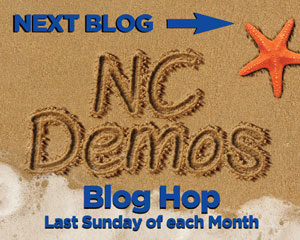 Anita Trippi  https://www.stampinwithanita.com/2019/08/nc-demos-august-2019-blog-hop.html
Patricia Todd  Trish Toddhttp://stampinawesome.com/2019/08/25/nc-demo-blog-hop-floral-inspirations/
Toni Campana  http://tonimariscreations.com/2019/08/19/nc-demo-august-b…sychedelic-daisy/
Jo Anne Hewins  https://luv2create.typepad.com/my_blog/2019/08/nc-blog-hop-for-august-all-about-flowers.html
Tina Lesson-https://stampingkz.blogspot.com/2019/08/august-2019-nc-demos-blog-hop.html
Frances Wagner  https://wagstamps.blogspot.com/2019/08/nc-demos-august-2019-blog-hop.html
Tracie Evans Langley https://thesassystamper.com/2019/08/25/nc-demos-august-…mell-the-flowers/
Product List
NC Demos August 2019 Blog Hop – Stop & Smell the Flowers