Welcome to the NC Demos Blog Hop!  It's January and time to celebrate good times (are you humming a certain Kool and the Gang song yet?) as we kick off the 2020 Sale-A-Bration. Did you stop by Amy Kinler's page yet?  I know she did something great!
So this month's theme is all about celebrating and I thought the Gang's All Meer was a perfect fit for a fun birthday card.  These little guys are just the cutest and I was inspired to use them after seeing a card by fellow SU Demo, Dawn Olchefske.  I have a couple of peeps I think might enjoy this card, so might have to make a couple of variations of it.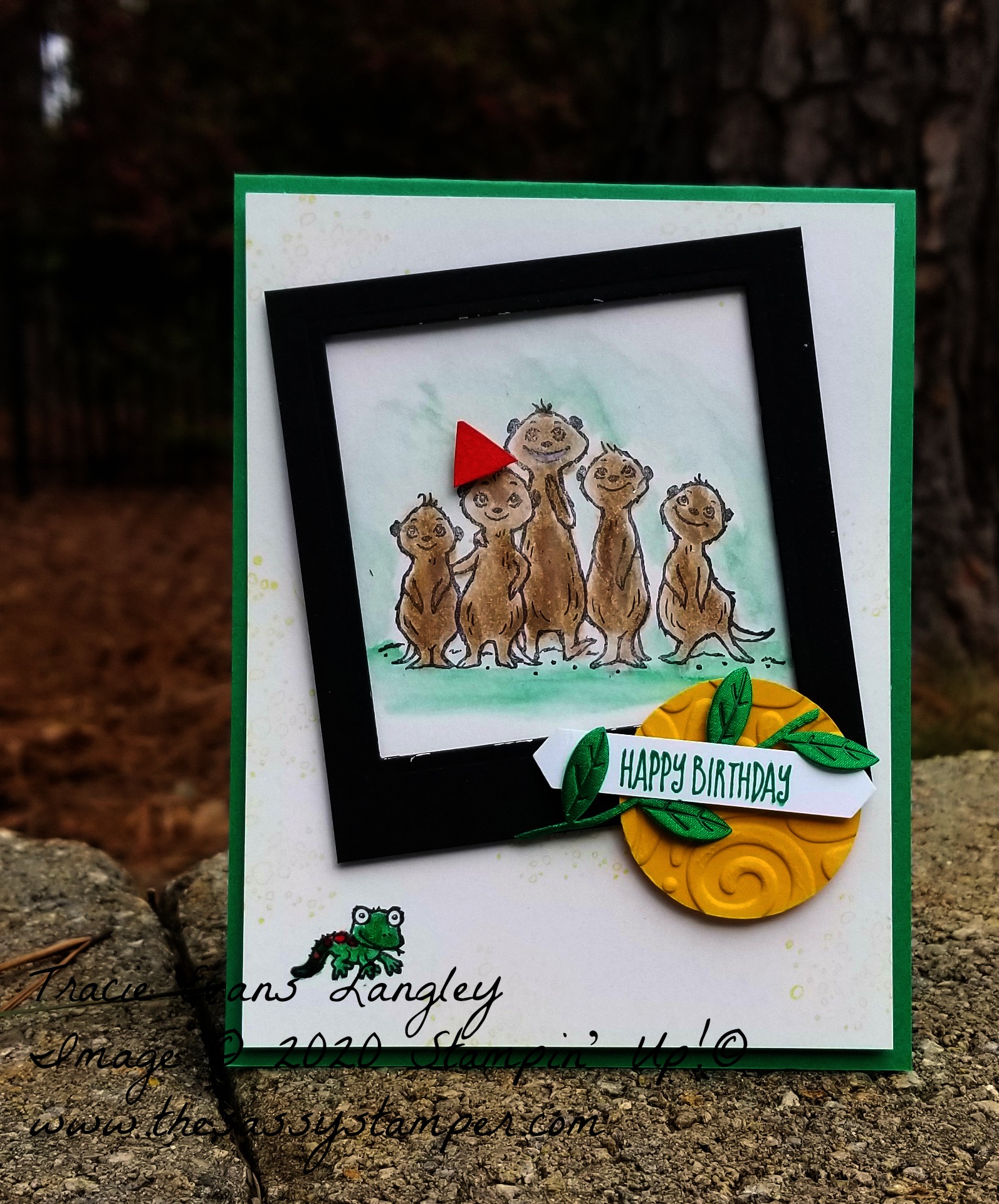 This card really is pretty straight forward.  Here are all the measurements:
Call Me Clover 4 1/4 x 11 and scored at 5 1/2 inches
Shimmery White 4 x 5 1/4
Basic Black 4 1/4 by 3 1/2 then use the Layering Squares to cut out the center of your frame then cut the cardstock to your desired frame size.
Scraps of Crushed Curry, Poppy Parade and Whisper White
So, after cutting my cardstock, I stamped my Meerkat gang and my lizard onto the Shimmery White with Memento Ink.  I mounted both stamps onto the Stamparatus and stamped them all at once.  The Stamparatus makes this a super easy card to make!  I then used an Aqua Painter along with my ink pads to color in my Meerkats, lizard and background.
I decided my card needed a little more color so I used the Artisan Textures stamp and Crushed Curry ink to randomly stamp my background.
I then cut out my frame using the Layering Squares Dies and attached it using the mini black Dimensiionals.  Next, I punched out my Crushed Curry circle and textured it using the Swirls & Curls Embossing Folder.  I used Call Me Clover ink to stamp and then punched out my Happy Birthday with the Classic Label Punch.  I attached these pieces along with my Leaf Ribbon with Dimensionals and Tear & Tape.
My final touch was to stamp and cut out the party hat and attach it with a half of a Mini Dimensional.  I meant to add a tiny rhinestone to the top of the hat, but it seems got distracted, probably by Sadie wanting to play ball, and forgot to do it before I took the picture.  I will definitely do this before giving the card.
Thank you for letting me celebrate with you!  If you love these Meerkats and the lizard as much as I do contact me to find out how you place your qualifying Sale-A-Bration order to get them for FREE!
I am off to see how Frances Wagner is celebrating this month.  I know it will be fantastic!
Please join me and the other NC Demos next month when we will be "bugging out" on February 23rd!
Happy Stamping!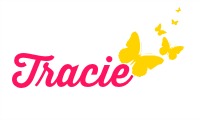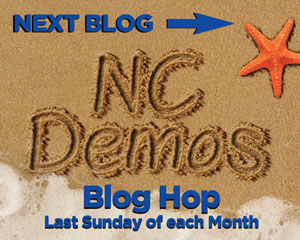 January Blog Hoppers
Toni Campana – https://wp.me/p4tAAw-bN
Jo Anne Hewins – https://luv2create.typepad.com/my_blog/2020/01/nc-demo-blog-hop-for-january-sale-a-brate.html
Tina Lesson-https://stampingkz.blogspot.com/2020/01/january-2020-nc-demos-blog-hop.html
Amy Kinler – https://stampinwithaheart.com/salebration-hb2u-with-stitched-lace/
Tracie Evans Langley – https://wp.me/pbuEpC-9F
Frances Wagner- https://wagstamps.blogspot.com/2020/01/nc-demo-january-2020-blog-hop-celebrate.html
Sharon Maranich – https://inkiefinger.blogspot.com/2020/01/nc-demos-blog-hop-lets-celebrate.html
Nedine DuPree – https://craftloungecreations.blogspot.com/2020/01/happy-new-year-january-nc-demos-blog-hop.html?m=1
Laurie Meier – https://stampedgreetings.com/my-favorite-sab-stamp-set/
Ariel Matera – https://mermaidinkpad.wordpress.com/2020/01/24/club-projects-for-january/
Product List
NC Demos January 2020 Blog Hop – Let's Celebrate with the Gang's All Meer!