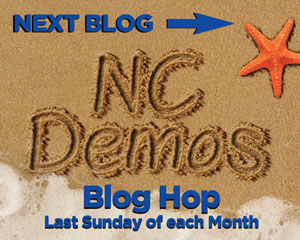 Welcome to the NC Demos July Blog Hop! We are so glad you stopped in.  If you have already been hopping along with us and you stopped by Tina Lesson's  post you know that since Summer is in full swing we are celebrating all things Summer this month. Our posts could be about a day at the beach, sunsets , water sports, Summer night, pool time, camping, bugs, flowers, hiking, Summer Vacation, ANYTHING that makes you think of summer!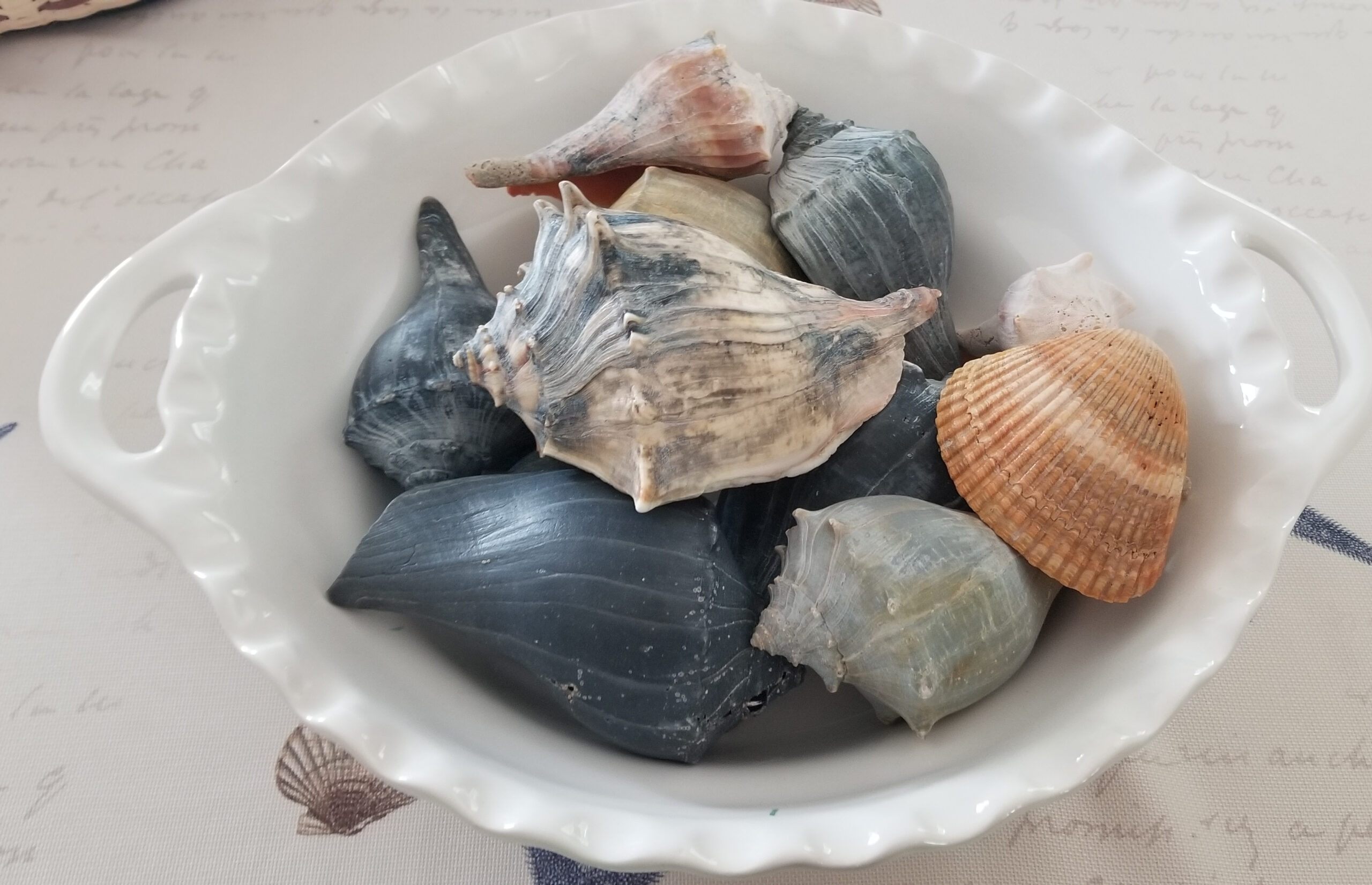 I love the beach, just chilling out, reading a book, having a cold beverage and enjoying the day with friends and family.  I also love strolling along chatting and collecting seashells.  Over the years I have acquired some lovely ones from as close as our North Carolina coast and the Virgin Islands and Jamaica to as far away as Thailand.  It does help that my sweet hubby shares my love of all things beachy and is an avid scuba diver who has brought me some amazing shells home from his adventures over the years. So, I thought I would create a card that perfect to share with a loved one remembering fun and lazy days on the beach.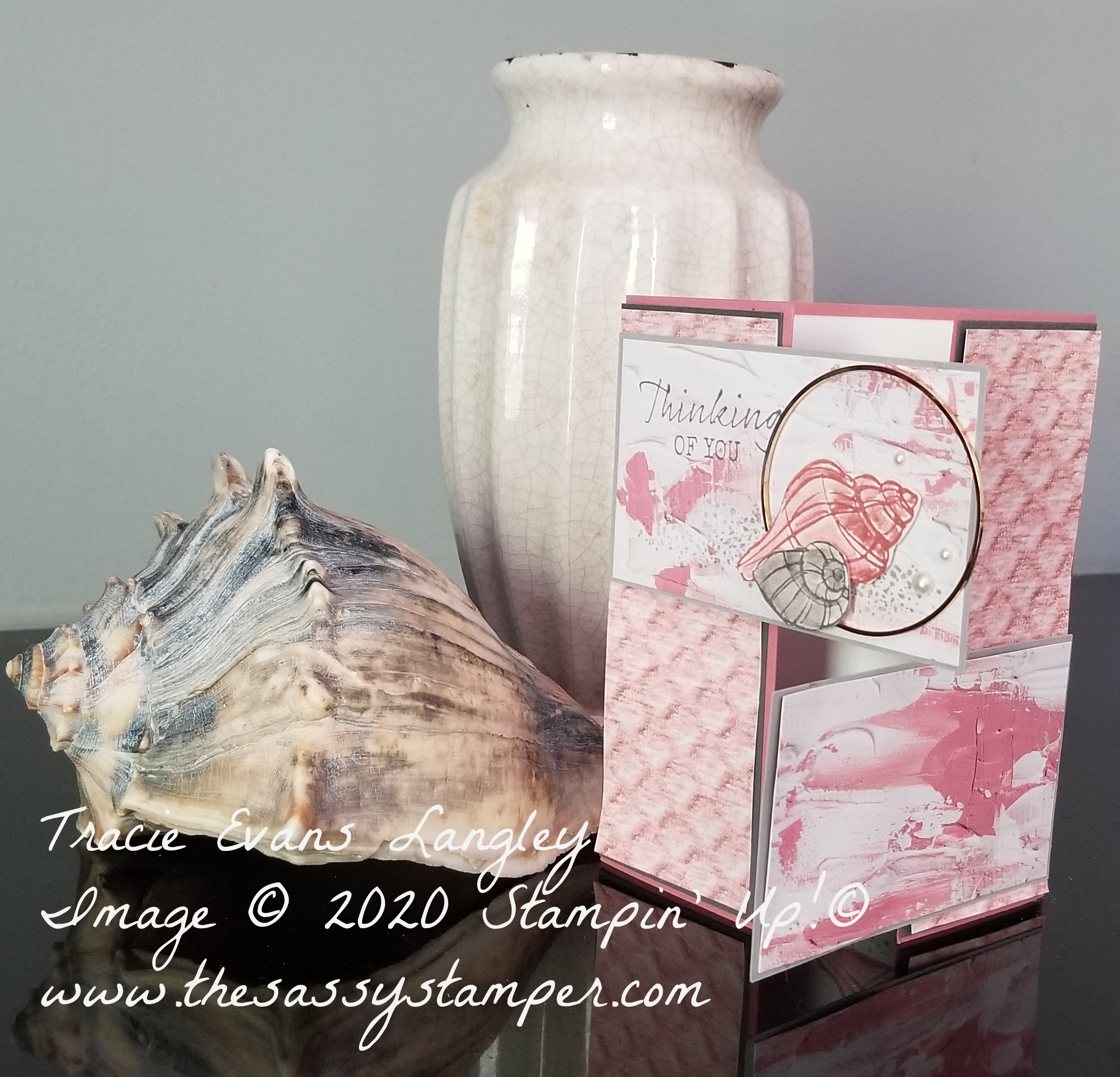 This card was inspired by a design I saw on Splitcoast Stampers a few weeks ago and I used the basic measurements for my Mystery Stamping event last week.  Everyone loved it and while I knew the measurements I didn't make a sample, but created my card right along with everyone else last Wednesday.  I have to say that I was super pleased with the outcome and had a lot of fun creating my card with the group.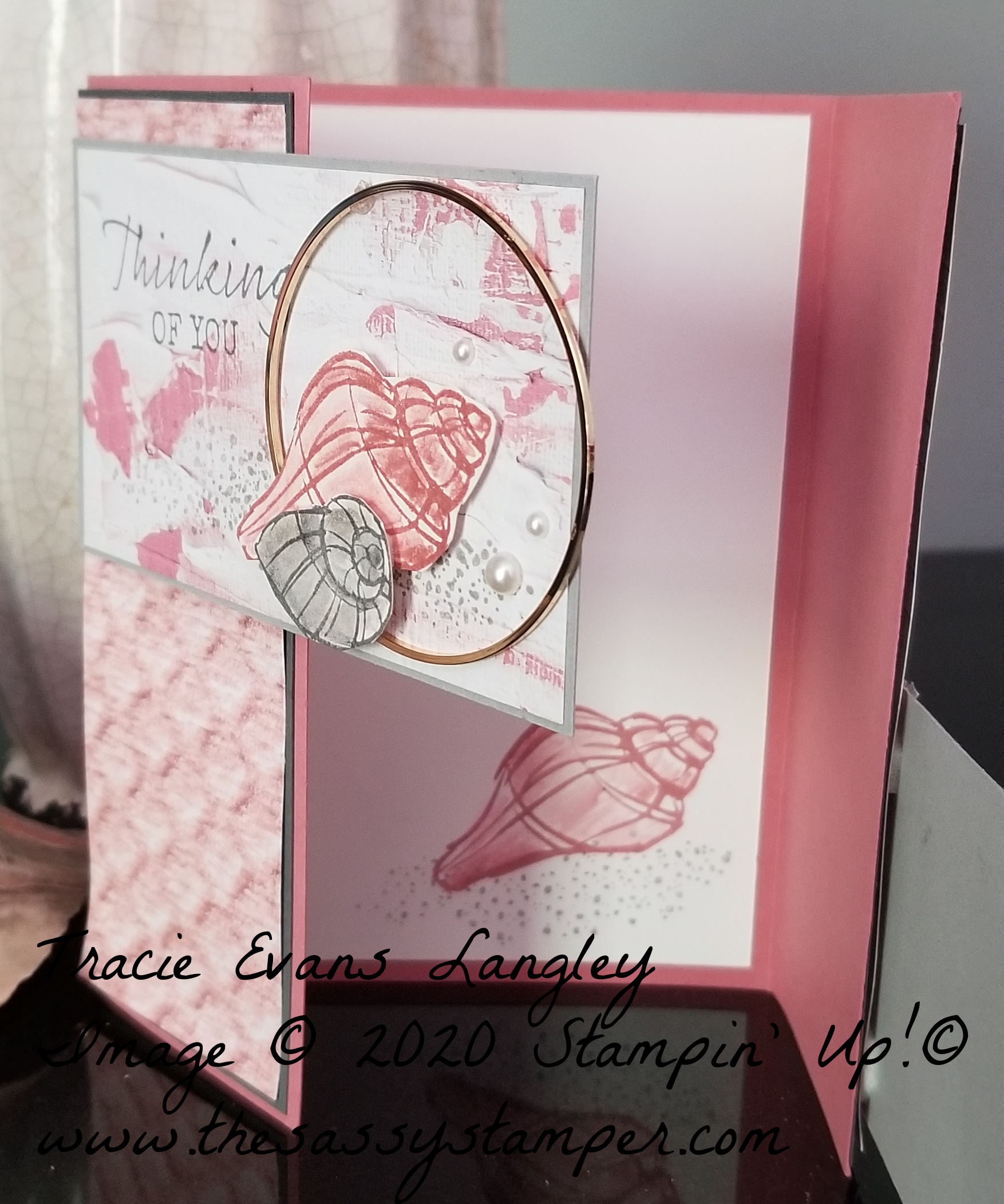 As I was planning and prepping my supplies for this card I started my card with the Rococo Rose paper in the In Good Taste DSP.  I have been wanting to use it since I first saw this awesome paper pack and I just happened to have my Seaside Notions stamp set on the table when I started thinking about my supplies for this project.  It was definitely serendipity!  My Color Coach helped me decide on my color combination.  It is such a handy tool!
Here are all the measurements for this card.
One piece Rococo Rose 5 1/2 x 8 1/2  and scored at 2 1/8 and 6 3/8
One piece of Whisper White 4 x 5 1/4
Two pieces of each of the following:
In Good Taste DSP 1 7/8 x 5 1/4
Basic Gray 2  x 5 3/8  .
In Good Taste DSP 2 1/4  x 3 7/8
Smoky Slate 2 3/8 x 4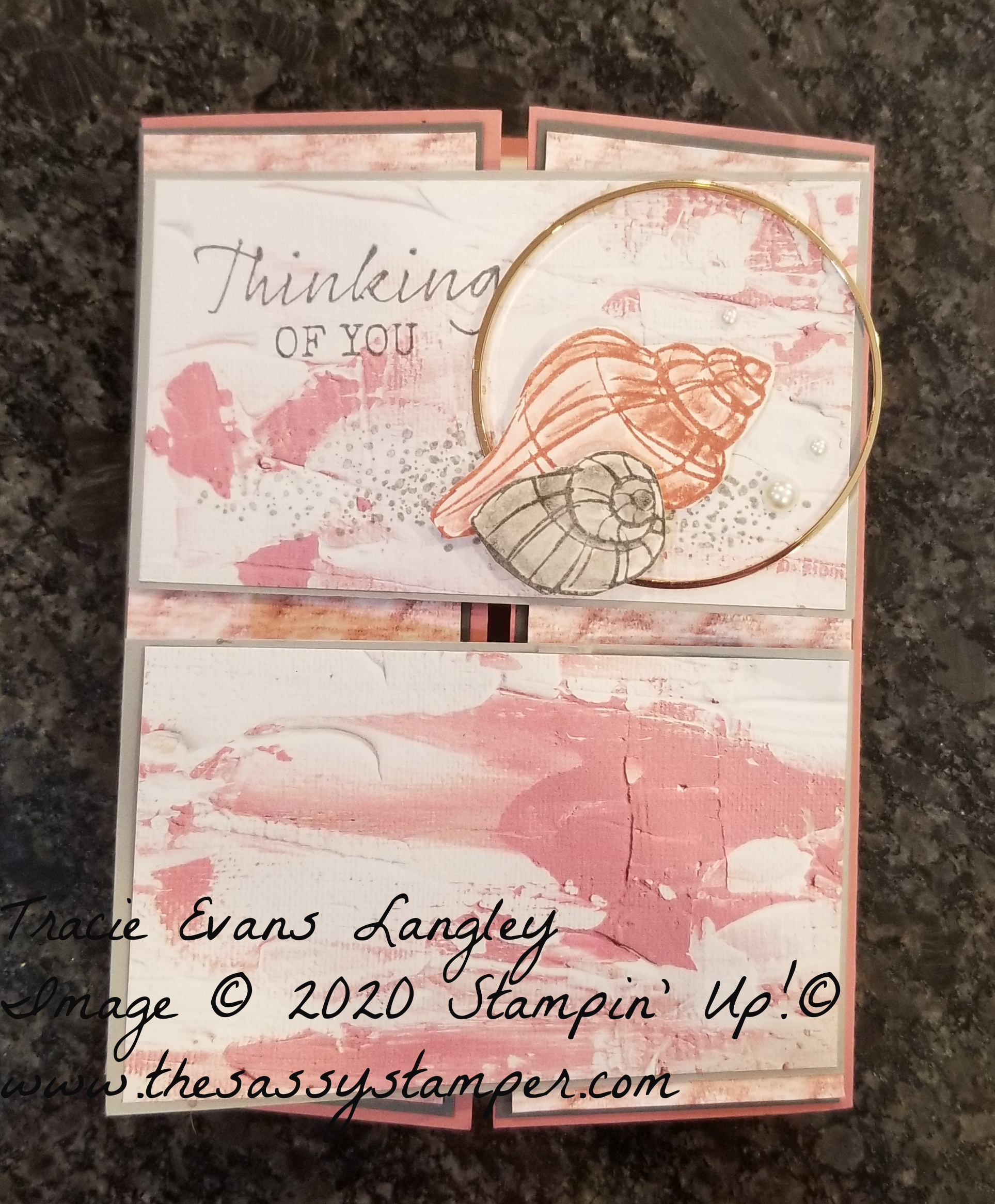 After assembling the layers I stamped my seashells on Shimmery White cardstock, colored them with Classic Ink pads and a Blender Pen then used our awesome Paper Snips to fussy cut them out.  Everyone was shocked as I am not a big fan of coloring OR fussy cutting and for me to do both on one project is unheard of, but I think I will do it again using this stamp set!  It was SO easy!
The Gold Hoop and pearls were a last minute addition and I think make this one of my favorite cards in a long time.  I did use a bit of Tear and Tape to secure the hoop under my seashells and then a little Glue Dot at the top of the hoop.
You can visit the Stamp Pad Facebook page to see samples of the amazing cards created by the talented group of ladies who joined us in person and virtually for Mystery Stamping last week.
Our next Mystery Stamping event will be Wednesday, August 5th.  Check back here on my blog for all the details later this week!
Want to make this card or, need supplies for future projects or have a question?  Just let me know.  I would love to help you!
I am off to see the fun Summer project Toni Campana is sharing this month.  I hope you will hop along with me!
Until next time…,
Happy Stamping!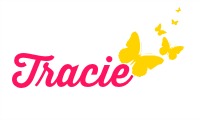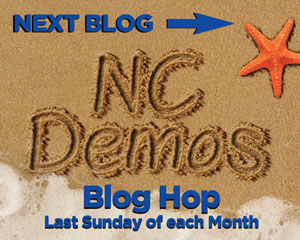 July Blog Hoppers
Jo Anne Hewins
Tina Lesson
Tracie Evans Langley
Toni Campana
Amy Kinler 
Ariel Matera
Laurie Meier
Sue Root
Nedine DuPree
Product List
NC Demos July 2020 Blog Hop – Let's Celebrate Summer