I hope everyone is having a wonderful day!  St Patrick's Day is a favorite at our house.  As with many of the holidays we love it is definitely about the food and friendship we get to share on this day.  While my corned beef is cooking away, I thought I would share my St Patrick's Day Sampler as well as a one of a kind card I made for my friend, Libby.  She sends me a lovely card almost every month and while I don't always get one back in the mail to her I do try to make her something special when I do.
I am including a brief supply and measurements list for the sampler.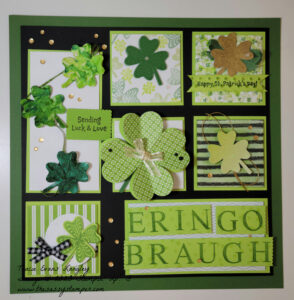 Lucky Clover Bundle
Garden Green, Granny Apple Green & Parakeet Party Ink
Garden Green 12 x 12
Basic Black
Create the Squares:
#1 Icing and Clover Square
Into the Clouds Embossing Folder
Rectangle Postage Stamp Punch
Basic White 3 x 6
Parakeet Party 3 1/4 x 6 1/4
Granny Apple Green for tag
Create the Shamrocks with the Clover punch, Chipboard from Dimensionals packaging, Shimmery Embossing Paste as well as Garden Green,  Granny Apple Green & Parakeet Party Reinkers.
Pastel Adhesive Backed Gems
Parakeet Party Metallic Woven Ribbon 12 inches
#2 Falling for Clover Square
Parakeet Party 3 1/4 x 3 1/4
Basic White 3 x 3
Use Garden Green Ink on Garden Green cardstock to create the focal point for this square.
3 Opal Rounds Gem
#3 The Clovers & Gold
Painted Poppies stamp set
Basics 3D Embossing Folder
Parakeet Party 3 1/4 x 3 1/4
Basic White 3 x 3
Distressed Gold Specialty Paper
Parakeet Party 3/4 x 3 1/2
Garden Green Ribbon 8 inches
#4 Hearts of Clover
Heart Punch Pack
Parakeet Party 3 1/4 x 3 1/4
Basic White 3 x 3
Gold Ribbon 8 inches
Black Matte Dots
Emboss 4 Parakeet Party Hearts with the Stripes & Splatters 3D Embossing Folder and attach to a 1 1/2 inch Circle. Then add a Garden Green shamrock to the back of the circle to create the stem.
Score 4 Dandy Design DSP hearts in half and attach to the top of the Parakeet Party shamrock.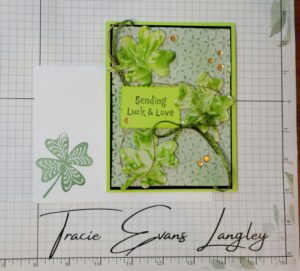 The card uses Linen Specialty Paper that is embossed and then colored using a Blending Brush and Direct to Paper.  The shamrocks are punched out from the chipboard found in our Dimensional packages and then I color Shimmery Embossing Paste to create the fun texture.
If you have any questions please feel free to email me at tracie@stampwithtracie.com.  I would love to help you!
Happy St Patrick's Day!