Good evening and welcome to our June Blog Hop!  We are SO glad you are here!  If you stopped by to see Tina Lesson's awesome project be sure to hop all the way around as I know it will be terrific!
This month, I gave our participants a challenge!  This is a great way to get over a creative block and push yourself to try something new!
Here is a pic of the Challenge Blocks I gave to everyone: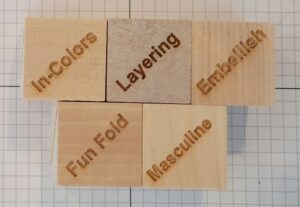 So, our cards were supposed to have the following elements:
Use In Colors – Any of the current ones will do. We could combine them with any of our other colors, but your primary color should be an In Color.
Our card should have  a Fun Fold.
Your card should have layering.
We needed to use at least one embellishment.
Our theme should be masculine.
So where do you start with this kind of project, you may ask.  Well, since the theme is masculine, I decided to start there by choosing my stamp set.  I had recently ordered the Your Path Awaits set and had decided to use it at my May Countless Cards Crafternoon.  The only problem was I didn't know where to start with this set, as there were NO samples on any of the usual sites to help spark my creativity.  So, I went back to the Annual Catty, looked up the recipe on the Print Lab (that's were we deoms can find the products used in the cattty samples).  I then started to make one of the cards as shown just to get a feel for how the stamp set works.  Well, by the time I was done I had changed the card from portrait to landscape, moved the DSP, added some ribbon and didn't stamp the scene exactly as shown in the catty.  My customers and I love the card!  Here is the original.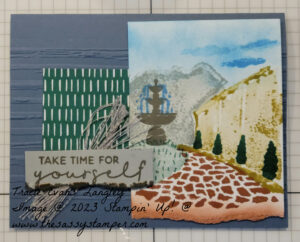 So, early last week when I started to work on this month's blog hop project I remembered that I still had two of the kits left for this kit and since the project met all of the requirements for this month's challenge,  except a fancy fold I thought it was the perfect place to start!  This led me back to my Pinterest where I have a board just for Fancy Folds I want to try.  I had pinned a video from Ink It Up With Jessica on creating a Dutch Door Card and decided that it was the perfect use for all the supplies I already had in front of me.  If you have not made one of these before, check out Jessica's original video.  She does a great job of explaining how to create this fancy fold. https://www.inkitupwithjessica.com/card-making-blog/
So, now my project met ALL the requirements!
It used In Colors Ink: Copper Clay, Pebble Path (which I LOVE with Smoky Slate) and Wild Wheat (which has become a new favorite color for me)
It had a fancy fold: Dutch Door
It had LOTS of layers!
It had and embellishment: Pebble Path Ribbon
And it was masculine in color and choice of the stamp set!
Winner! Winner, Chicken Dinner!  I was ready to get started!
So, here are all the measurements for this super easy fun fold card.  It took me longer to stamp my scene than anything else!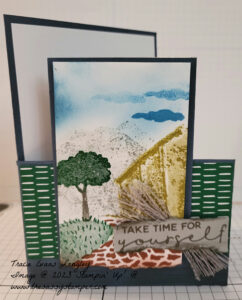 Misty Moonlight 5 1/2 x 8 1/2, scored at 4 1/4, then cut the top 2 3/4 off to used behind the focal point.
Basic White 4 x 5 & 2 1/2 x 4
Regals DSP 2 x 4 1/4
Smoky Slate 1 x 3 tear & distress using Pebble Path ink and a Mini Blending Brush
Pebble Path Ribbon 3 inches.  Pull the ends to unravel it to create fibers.  Don't forget to save the thread you unravel for a future project!
I love the simplicity and calm look of this card.  I also love when I can use one stamp set and little ink and blending brushes to complete a project.
I will give you one piece of advice about this stamp set.  Block all the pieces of the set and play with them on scrap paper before stamping on your actual cut pieces..  The are a little tricky to line up just right and it takes some practice.  But I think the final results are worth it!
Thank you SO much for joining us this month.  I hope I have inspired you to try out the Dutch Door Fancy Fold yourself.  If you have questions or would like to order any of the products used here, please let me know.  I would LOVE to help you!
I am all done, but am ready to jump on over and see what my friend, Laurie Meier has created.  She is SO talented and I know has something fantastic to share!
Until next time…
Stay Safe & Crafty!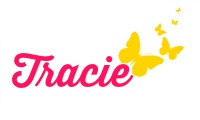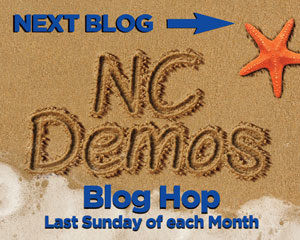 June 2023 Blog Hoppers
Jo Anne Hewins
Tina Lesson
Tracie Evans Langley, the Sassy Stamper
Laurie Meier
Toni Campana
Kelly Taranto – The Late Night Stamper
Tonya Bowers
Product List
NC Demos June 2023 Blog Hop – It's Challenging!