Sunday, February 25, 2018
NC Demos February Blog Hop – South for the Winter
Good evening and welcome to the NC Demos February Blog Hop!  We are celebrating living South for the Winter and I am sure if you have already popped by Jo Anne Hewins page you are already inspired.  I just love her projects! So, it may be February outside, but you can't tell it from the weather here.  Hopefully, we have seen the last of the frigid temperatures that plagued us in December and January and will continue to experience the mild climate that is one of the perks of living in North Carolina.  So, it's not warm enough for a dip in the pool just yet, but I have dug out the shorts and flip flops and have all the windows open. So, for those of you who aren't lucky enough to be living Sourh for the Winter or those of you who want some inspiration for fun sunny projects I decided to share the South for the Winter I will be making with my stampers later this week.  
If you have followed my blog lately you know that I am just mad about Samplers right now.  They are just a great creative way to add a little something to your décor and a wonderful way to use a variety of products.  The Sampler I am sharing with you tonight was actually inspired by the décor that I have been putting together in our downstairs bathroom.   I love the bright and cheery colors and all the textures!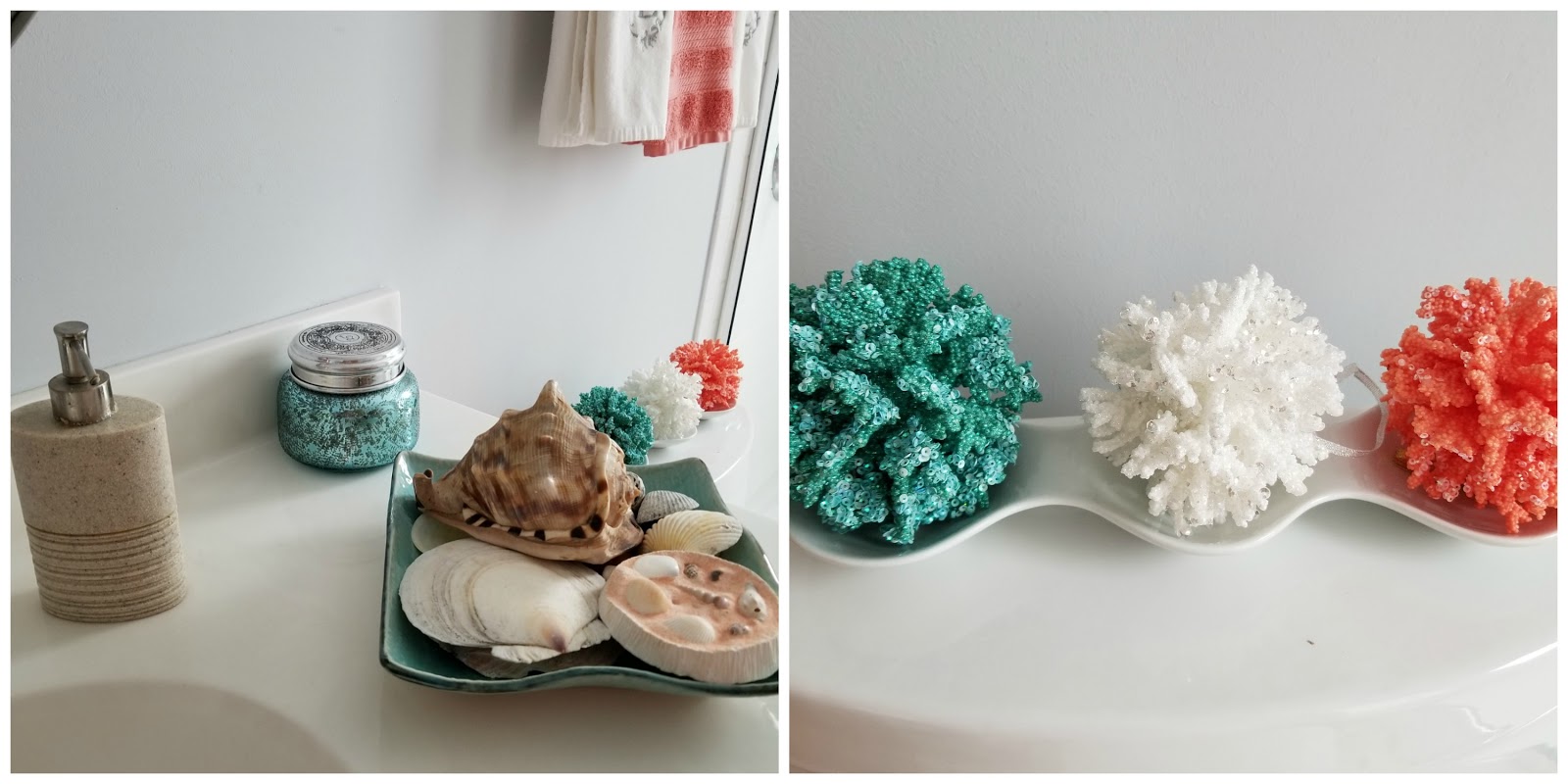 So, now that you can see where I started, we can get down to the details of how I made this fun Sampler that will become a part of beachy bathroom as soon as I find the right frame.
I am not going to totally go step by step on each square.  We would be here all night! I thought I would share the basic measurements along with a few quick tips on each square.  If I have used the technique on a previous post I will share the link so you can just click on the link and get all the directions.  I have also tried to list all the supplies at the end of this post. If you do have any questions please comment below or feel free to contact me.  I always love to talk stamping!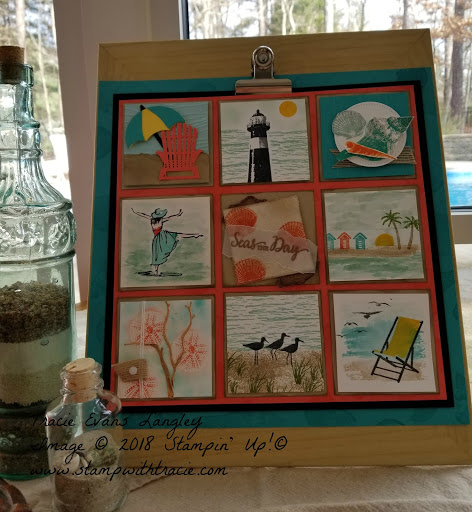 So, as with every sampler, I started by cutting my basic layers:
1 Bermuda Bay 12 x 12
1 Basic Black 11 x 11
1 Calypso Coral 10 ½ x 10 ½ 
9 Crumb Cake squares 3 ¼ x 3 ¼ sponged and direct to paper with Crumb Cake ink
8 Squares that are 3 x 3 using a variety of cardstock
1 Scrap of Glossy White cardstock for square number 5.
As a rule for all the squares I used Soft Sky ink for the sky and either Pool Party or a combination of it and Bermuda Bay for all the water.
I stamped the seashells on the base pieces in VersaMark using shells from So Many Shells.  You can make this go quicker by putting all the stamps on one clear block.
Now for a quick rundown on how I created the squares.  The first one uses the Adirondack chair from the Seasonal Layers Thinlits and the umbrella is from the Umbrella Weather Framelits and the Seaside TIEF.  I tore the edge of the 1 x 3 inch piece of Crumb Cake cardstock then used a sponge and direct to paper technique to create my sand.
The second square uses the lighthouse from High Tide and is just basic stamping.  I did use the new Stamparatus to get my lighthouse just right. Love that thing! If you haven't ordered it you are going to want to get it as soon as the new Annual Catalog comes out!  
For the third square I broke out the Stamparatus again to help me with the two step stamping for the seashells fro So Many Shells.  I used Pool Party and Basic Gray (stamped off) for the scallop shell. The large shell is stamped in Smoky Slate then Bermuda Bay. The top shell is stamped in Peekaboo Peach then Calypso Coral.  Then you have to get out those Paper Snips and start fussy cutting.  
The beach babe (as I like to think of her) from the Beautiful You stamp set is stamped in Basic Black on Shimmer paper then watercolored using Aqua Painters.  I did use the Stamparatus to stamp the lady to endure I had a good image.
For my Seas the Day square in the center I used the Faux Linen technique sponged in Crumb Cake and then stamped the scallop shells in Calypso Coral.  I added some of the Copper Trim (loved it) for texture and topped everything off with my phrase stamped in VersaMark then embossed with Copper EP on Vellum.
Okay, let's get serious for a second before we talk about square number six.  Ifu haven't added the Waterfront stamp set to your stamping stash you need to do it today!  It is SO versatile and can be used for SO many occasions! I haven't seen ANYTHING stamped with it that wasn't great and it is SO easy to use!  Now, back to telling you about making this square…Start at the top and just layer the different stamps until you fill in all the white space and like what you have.  I did do a little masking to stamp the sun. 
Okay, I don't love sea urchins as a rule.  Some of them sting you and they taste icky, but I love the one from So Many Shells, especially for square number seven.  I did a basic Emboss Resist on a 3 x 3 piece of Whisper White cardstock then sponged with Calypso Coral, Pool Party and Bermuda Bay.  The idea for the coral came from a fellow demo on Pinterest and was made using the tree branch from the Seasonal Layers Thinlits and the Copper Foil paper.
Square number eight is much like number six.  I used the High Tide stamp set and started by stamping the water at the top and working down to the sand.  Then I stamped my birds and filled the space around them with the grass.
My final square was inspired by the memories of my dear friend, Windi, and her love of sitting with her chair just at the edge of the water were she could dip in her toes and feel the sand and surf while we sipped her famous Pina Coladas.  I created my background scribbling with Pool Party, Bermuda Bay and Crumb Cake Stampin' Write Markers on a D clear block then spritzing it with water and stamping it onto a 3 x 3 piece of Whisper White cardstock. I let it dry completely before using the Stamparatus to stamp my beach chair from the Colorful Season stamp set.  I added the seagulls from High Tide for a finishing touch.
Wow!  Sorry this post was SO long!  I hope my South for the Winter Sampler has brought a little sun and cheer into your day and maybe inspired you to create your own samplers.   Check out my Pinterest board for more Sampler ideas.  If you have any questions or need help ordering any of the products I used please contact me!  I would love to helping you!
 Well, I am off to see what the rest of the NC Demos are sharing this month starting with Sharon Maranich , who always has something great to share!  I invite you to come hop along if you haven't already visited everyone.
See you next month when we will be sharing projects using the 2016-2018 In Colors!
Happy Stamping!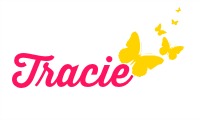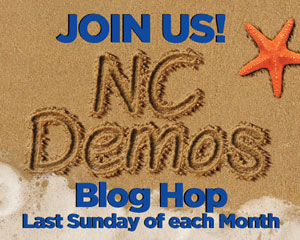 February Blog Hoppers
Toni Campana –
http://www.stampinup.net/esuite/home/toni/blog?directBlogUrl=/blog/10706/entry/nc_demo_s_february_blog
Tamra Davis –
http://www.theCardLadies.com/nc-demos-blog-hop-coloring-for-spring/
Jo Anne Hewins –
http://luv2create.typepad.com/my_blog/2018/02/nc-demo-blog-hop-south-for-the-winter.html
Tracie Evans Langley –
http://www.stampinup.net/esuite/home/traciesallaboutstamping/blog?directBlogUrl=/blog/86481/entry/nc_demos_february_blog_hop2
Sharon Maranich –
https://inkiefinger.blogspot.com/2018/02/nc-blog-hop-brusho.html
Laurie Meier –
https://stampedgreetings.com/nc-demos-blog-hop-amazing-one-layer-cards/
Sue Root –
https://stampin-with-sue.blogspot.com/2018/02/south-for-winter-nc-su-demos-blog-hop.html
Kathy Svedberg –
http://www.stampinup.net/esuite/home/craftykathy/blog?directBlogUrl=/blog/2159341/entry/hold_on_to_hope
Frances Wagner –
https://wagstamps.blogspot.com/2018/02/nc-demos-february-blog-hop-south-for.html
Christina Walker – http://papergears.com/nc-demo-feb-18-hop/
POSTED AT FEB 25, 2018 08:00 PM  |     COMMENTS [9]
COMMENTS:
Love this project!! Can't wait to see it in person. Thanks so much for sharing.
Posted by Christina Walker on February 25, 2018 at 08:15 PM #
Tracie, your post is inspiring me to finally get down to making a sampler. How is it that I haven't done one yet!? Thanks for all the instruction and thanks for a great idea!
Posted by Toni Campana on February 25, 2018 at 08:45 PM #
Thank you ladies for your kind words. Christina, I will try to remember to bring all the samplers I have to the Getaway. Toni, I can't wait to see what you create!
Posted by Tracie Evans Langley on February 25, 2018 at 08:54 PM #
Thanks for sharing the details for this project!
Posted by Joyce Hunt on February 25, 2018 at 09:17 PM #
Wow, Tracie. I love your project. I hate to admit that I have So Many Shells and I have never used it. I'm hoping that the Stamperatus will help get me inspired. Your project certainly will!
Posted by Jo Anne Hewins on February 25, 2018 at 10:37 PM #
Tracie, I love your sampler, I really need to make one and you have inspired me. I also like your bathroom. Those are my favorite colors.
Posted by Frances on February 26, 2018 at 12:07 AM #
Tracie – Your sampler is awesome! The colors are gorgeous, and square holds a wonderful piece of art and a story. I have never made a sampler, but I think I'll give it a try. Thanks so much for sharing!
Posted by Laurie Meier on February 26, 2018 at 08:57 AM #
Thank you ladies! Can't wait to see the samplers you all create!
Posted by Tracie Evans Langley on February 26, 2018 at 10:51 AM #
This is wonderful! I have wanted to do one of these for a while and haven't seemed to get to it. This may be just the inspiration I need.
Posted by Sue Root on March 07, 2018 at 01:16 AM #
2018, February 25, NC Demos February Blog Hop – South for the Winter