Saturday, March 10, 2018
New Sale-A-Bration Products Make Cute Cards Quick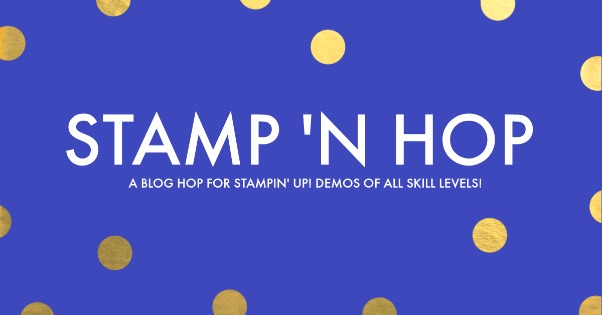 Greetings from the North Carolina in the USA and welcome to the March Stamp 'N Hop!  If you are just joining us this month you are in for a treat and if you have already been hopping along and stopped by Britney Vanderlaan's, I know you have already been inspired! 
This month our hop is all about Sale-A-Bration and March is all about celebrating to me! I love March.  Yes, there is Stampin' Up! Sale-A-Bration and who doesn't LOVE getting free stampin' goodies? March is my birthday month. Yay!  It's also the beginning of Spring! And if you have followed my blog for long you know I am SO over Winter and cold weather! So, keeping all of this in mind I thought I would share four of the card designs we did at my March Cute Cards Quick last weekend.  They are all quick and easy, use the Sale-A-Bration Springtime Foils Specialty Designer Series Paper and the Big On Birthdays stamp set from the Annual Catalog. All four cards have the same basic measurements:
Cardbase 5 ½ x 8 ½ inches and scored at 4 ¼ inches.

Springtime Foils DSP 4 x 5 ¼ inches. 
So, now that we have the basics for all the cards I will share a few of the details that might help you create these cards yourself.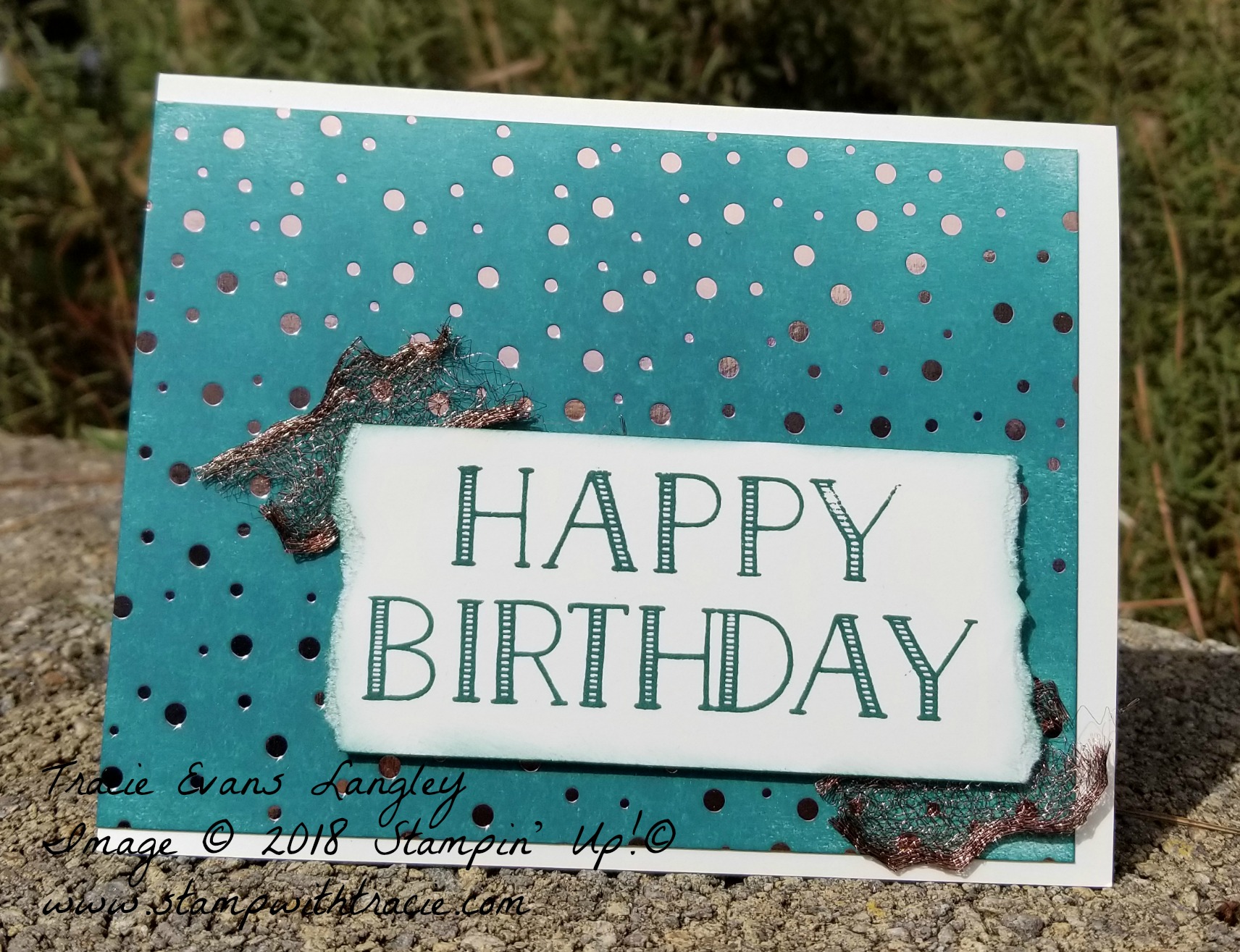 The first two cards are basically the same.  The greetings on the first two cards are on Very Vanilla and Real Red and are 4 ¼ x 1 ¾ inches.  The first card was inspired by one that my upline shared on our team Facebook page. I used a Sponge Brayer and a Tranquil Tide ink pad to color the Springtime Foil DSP and then added a little of the Copper Trim to finish it off.
For my second card, I loved the bright and simple look of the silver metallic strips with the Bermuda Bay and Real Red, so decided to not color the DSP.  I think that the Bermuda Bay Sale-A-Bration Shimmer Ribbon adds a whimsical touch. To do this just find the little silver thread in the ribbon and pull it out.  Tie a little knot in the middle and attach it to your card with a glue dot then tie a five inch piece of Silver ribbon around it.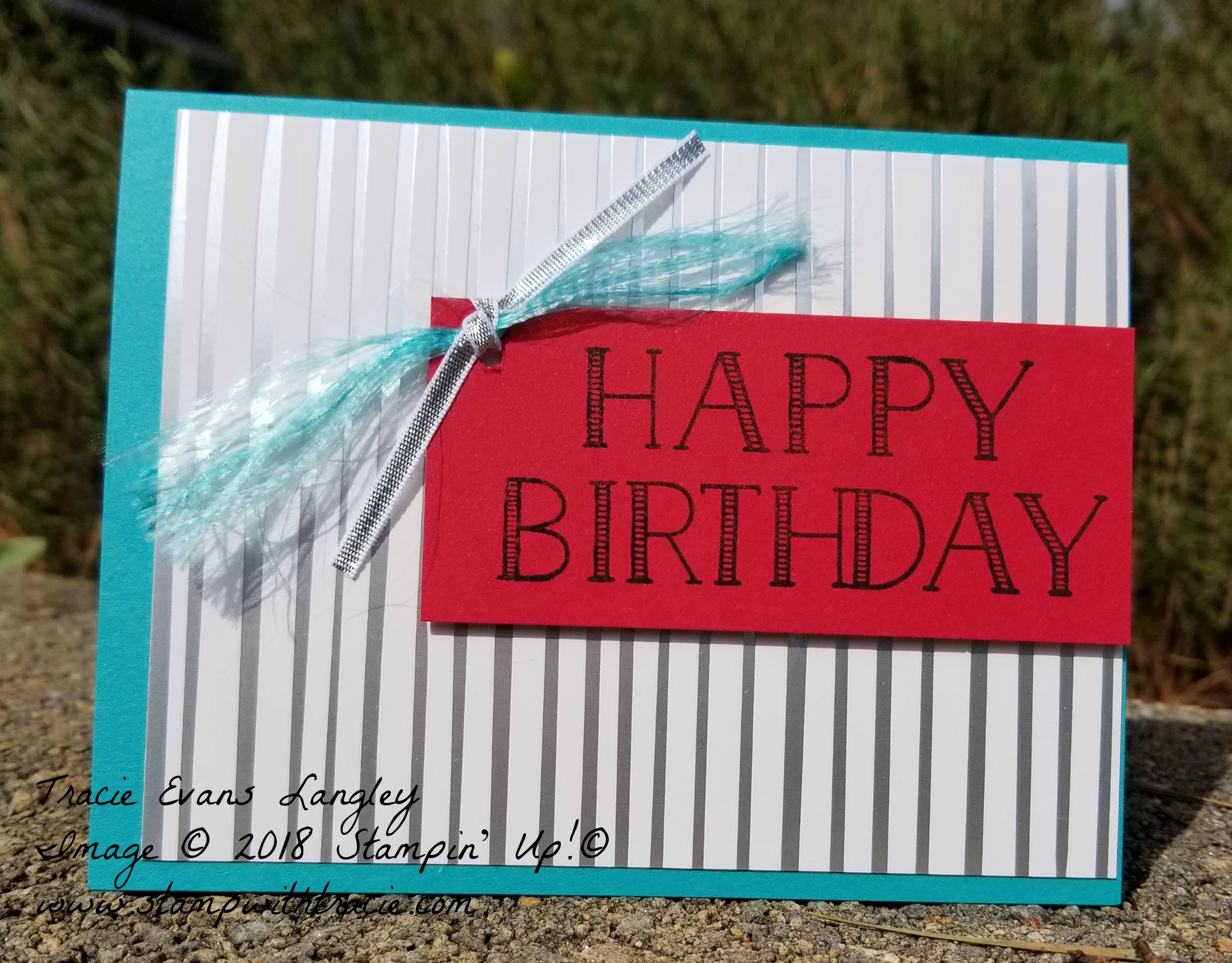 I think this third card is my favorite!  I love how pretty and girly the Rose Red and Blushing Bride flowers are.  I wanted to color the flowers, but knowing it was for Cute Cards Quick and we have to make ten cards in just a couple of hours that coloring that many flowers might prove tricky.  So, I decided to use Sponge Daubers in Rose Red, Blushing Bride and Pear Pizzazz. This is a very quick and easy way to get some color on larger images. I also like that it give a soft look to the project.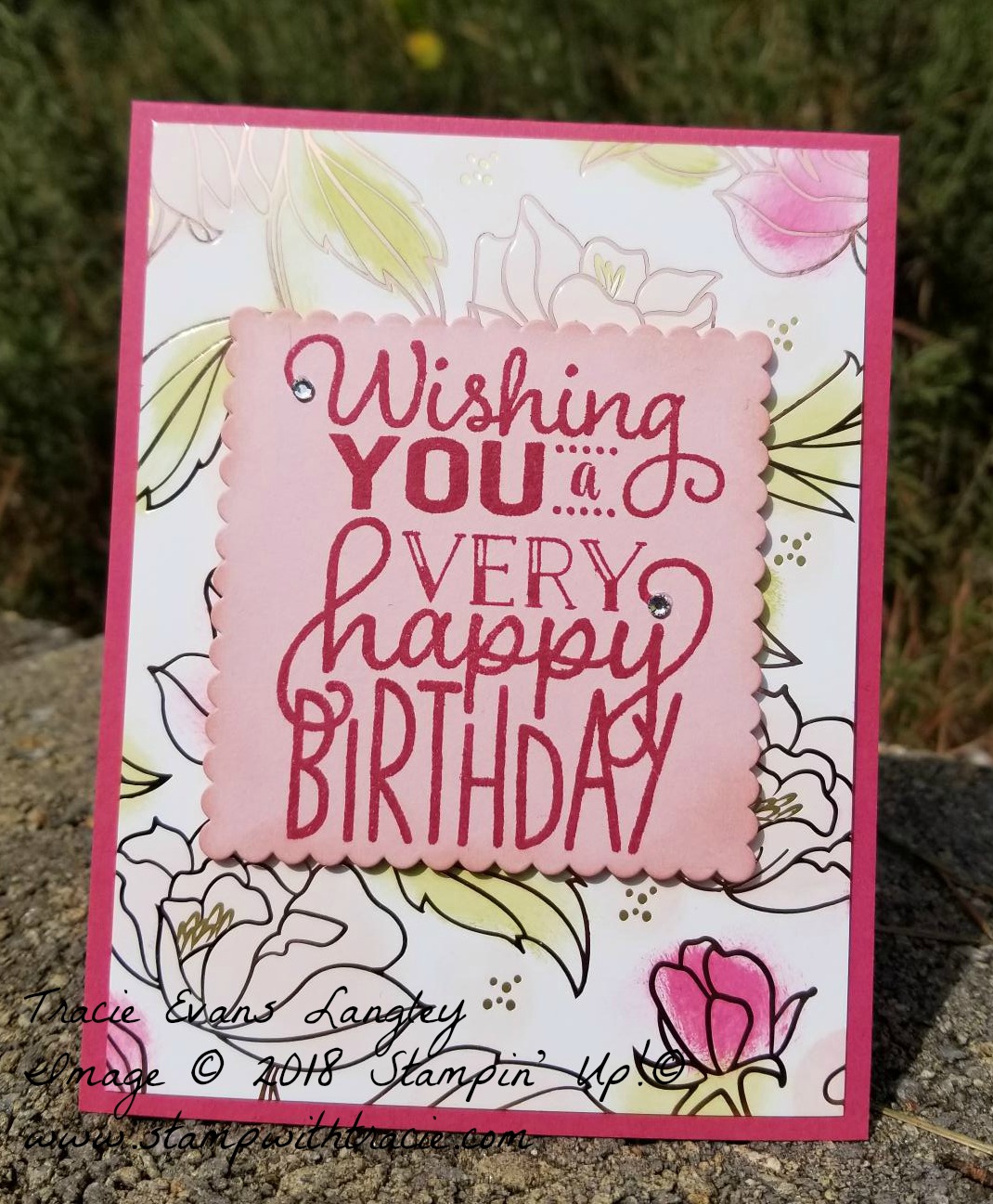 For the last card I stamped my Happy Birthday and flowers image using the Tuxedo Black Memento Pad onto a 4 x 2 ¾ inch piece of Whisper White cardstock then colored in the flowers with the Cherry Cobbler, Daffodil Delight and Old Olive Blends.  I then added one half of a Delicate White Doily and some of the SAB Shimmer Ribbon in Basic Gray. This card looks fancy, but it really does go together quickly.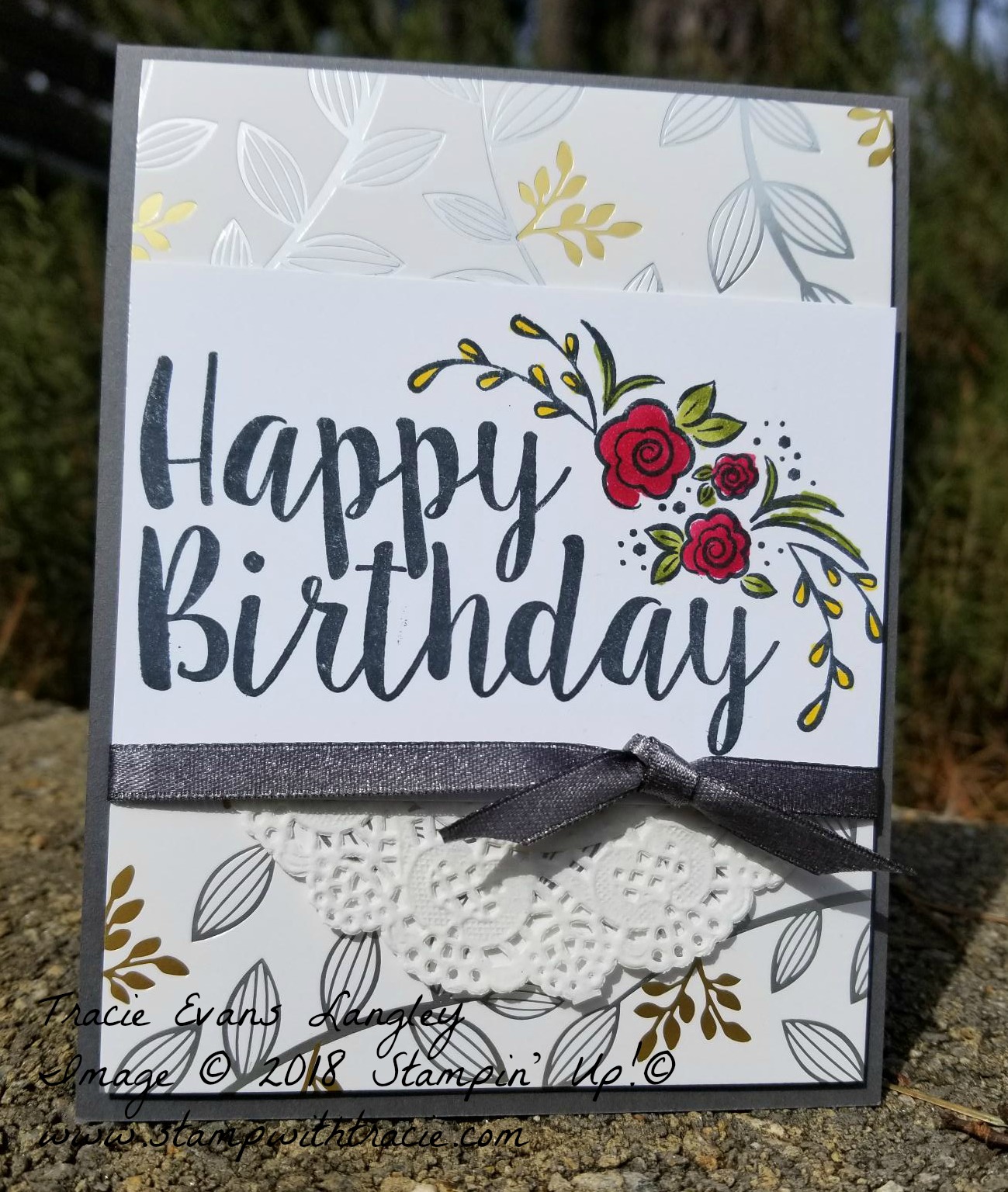 Thank you for lspending a part of your day with me.  If you have questions or would like to add any of these products to your stamping stash plesae contact me.  I would love to help you!  
If you haven't already done so, stop by Melissa Kerman's hop next.  She always has something new and creative to share!
Happy Stamping!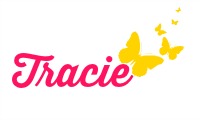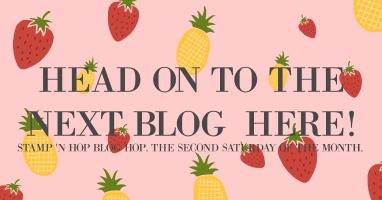 Stamp 'N Hop March Blog Hop Master List
Idonna Miller http://www.stampinup.net/esuite/home/idonnamiller/blog?directBlogUrl=/blog/2134755/entry/march_2018_stamp_n_hop
Ilka Teschke – https://wp.me/p4Tobv-ld
Tracey Gouraud – https://stampinovertherainbowwithtraceyg.blogspot.com/2018/03/stamp-n-hop-sab-round-2-you-are-loved.html
Kayla Adams – https://thecreativitycoop.blogspot.com/2018/03/stamp-n-hop-march-blog-hop.html
Joanne Hodge – https://wp.me/p7UkO4-gM
Sandra Roberts – https://stampnstudio.blogspot.com/2018/03/stamp-n-hop-sale-bration-2nd-release.html
Melissa Tennison – https://wp.me/p9MH0-Qa
Mo Rootes – http://www.crafty-rootes.com/eclectic-expression-flowers-stamp-n-hop/
Britney Vanderlaan – https://hopepapercreations.wordpress.com/2018/03/10/stamp-n-hop
YOU ARE HERE! Tracie Evans Langley – http://www.stampinup.net/esuite/home/traciesallaboutstamping/blog?directBlogUrl=/blog/86481/entry/new_sale_a_bration_products
Melissa Kerman – http://www.stampinup.net/esuite/home/thecraftingtreehouse/blog?directBlogUrl=/blog/60800/entry/stamp_n_hop_blog_hop
Georgia Gaydos – https://stampwithgeorgia.blogspot.com/2018/03/snh-march-2018.html
Shannon Cole – http://creatingforgrace.com/creatingforgrace/2018/03/eclectic-expressions-2018-sale-bration-round-2.html
Lisa Kmiec – https://lisakmiecstamps.blogspot.com/2018/03/stamp-n-hop-blog-hop-sale-bration.html
Amy Grendel – https://createandsharewithamy.blogspot.com/2018/03/stamp-n-hop-march-2nd-sab-release.html
Jenn Charles – http://bffstampers.com/stamp-n-hop-sale-bration-round-2/
Laura Mackie – http://www.lauramackie.co.uk/2018/03/stamp-n-hop-sale-bration-round-2-blog.html
Eva Pottsova (Crafting With Angels) – https://craftingwithangels.blogspot.com/2018/03/eclectic-expressions-stamp-n-hop-round.html
Rachel Traudt – https://naptimeisstamptime.blogspot.com/2018/03/stamp-n-hop-march-blossoming-basket.html
Laurie Meier – https://stampedgreetings.com/stamp-n-hop-blossoming-spring-basket/
Susan Simpson – https://craftyduckydoodah.blogspot.com/2018/03/stampin-up-lots-of-lavender-for-stamp-n.html
Kimberly Smith – http://thepaperedchef.com/bubbles-fizz-lemonade-treat
Tracy Lewis – http://www.stuffnthingz.com/march-stamp-n-hop
Karen Pearmain – http://www.craftylittlemissk.co.uk/2018/03/stamp-n-hop-blog-hop-round-2-sab.html
Christina Walker – http://papergears.com/stamp-n-hop-march-2018/
Bobbi Miller – https://bobbi-spapertrail.blogspot.com/2018/02/stamp-n-hop-blog-part-2.html
Danielle Kassing – https://daniellekassing.blogspot.com/2018/03/stampinup-stamp-n-hop-sale-bration.html
Kirsten Aitchison – http://www.kirstenaitchison.com/2018/03/stamp-n-hop-blog-hop-theme-sale-bration.html
Sharleen Luciano – https://wp.me/p8rVfG-Gn
Rebecca Fellows – https://rebeccascreativelife.blogspot.com/2018/03/march-stampin-n-hop-blog-hop.html
Arden Dougan – https://stampinarden.blogspot.com/2018/03/march-stamp-n-hop.html
Linda Handford – https://stampinbythebeach.blogspot.com/2018/03/stamp-n-hop-march-blog-hop.html
Sharon Maranich – https://inkiefinger.blogspot.com/2018/03/stamp-n-hop-blog-hop-2-featuring-sale.html
Mikaela Titheridge – https://thecraftyoinkpen.co.uk/2018/03/stamp-n-hop-stampin-free-products-crafty-oink-pen.html
Andre Gordon – http://andrescreations.thesearemystamps.com/blogs/stamp-n-hop-march-hop-along
POSTED AT MAR 10, 2018 12:00 PM  |     COMMENTS [8]
COMMENTS:
Great variety! I love that paper!
Posted by Rachel on March 10, 2018 at 10:16 PM #
the copper mesh behind the sentiment looks lovely, great projects – TFS
Posted by Susan on March 11, 2018 at 02:17 PM #
Pretty cards Tracie! I'm so sad this paper is going away so quickly!!!
Posted by Melissa Kerman on March 11, 2018 at 02:25 PM #
Such a great project Tracie. Love all the variations that you made. Thanks for sharing.
Posted by Christina on March 11, 2018 at 08:36 PM #
Each card definitely highlights a great way to use the DSP. I especially like the addition of the copper trim on the first card. I hope you had a great birthday!
Posted by Laurie Meier on March 12, 2018 at 05:11 PM #
I love the frayed ribbon tip. Nice job!
Posted by Kim on March 13, 2018 at 08:09 PM #
Your cards are so cute! I love that DSP! TFS!
Posted by Melissa Tennison on March 13, 2018 at 11:31 PM #
Lovely cards Tracie. I am really loving that foil DSP and how you've coloured it.
Posted by Kirsten Aitchison on March 15, 2018 at 03:00 AM #
2018, March 10, Saturday, March 10, 2018 New Sale-A-Bration Products Make Cute Cards Quick