Wednesday, March 28, 2018
NC Demos March Blog Hop – Living In Color
Welcome to the NC Demos March Blog Hop!  This post is going to be a bit shorter than some others as I am writing from the backseat while my delightful downline, Jenn drives and our bestie Debera navigates us back to Raleigh after helping me host another AMAZING Scrappy Stampers Getaway in Virginia Beach.  We are all tired, but it's a good tired. Anyway, just wanted to let you know that so you will understand why this post will be a bit short and a little disjointed. =-)  
So, with that all said, this month's theme is all about the 2016-2018 In Colors which will be retiring in just a little over two months.  In case you don't know these colors always last for two years and are inspired by the colors that surround our lives right now in everything from fashion to home décor and more!
So, my projects this month uses two of my favorite retiring In Colors Flirty Flamingo for the first card and Dapper Denim for the second along with Brusho and an updated version of the Wax Paper Resist technique.  Both cards start out with the exact same measurments:
4 ¼ x 11 inch cardbase

4 ¼ x 5 ½ inch layering piece

4 x 5 ½ inch piece of Glossy Carstock

A scrap of Whisper White for the greeting.
My suggestion is to cut the Glossy Cardstock and do the Wax Paper Resist then do the rest of your cutting and stamping while you wait on the Glossy Cardstock to dry.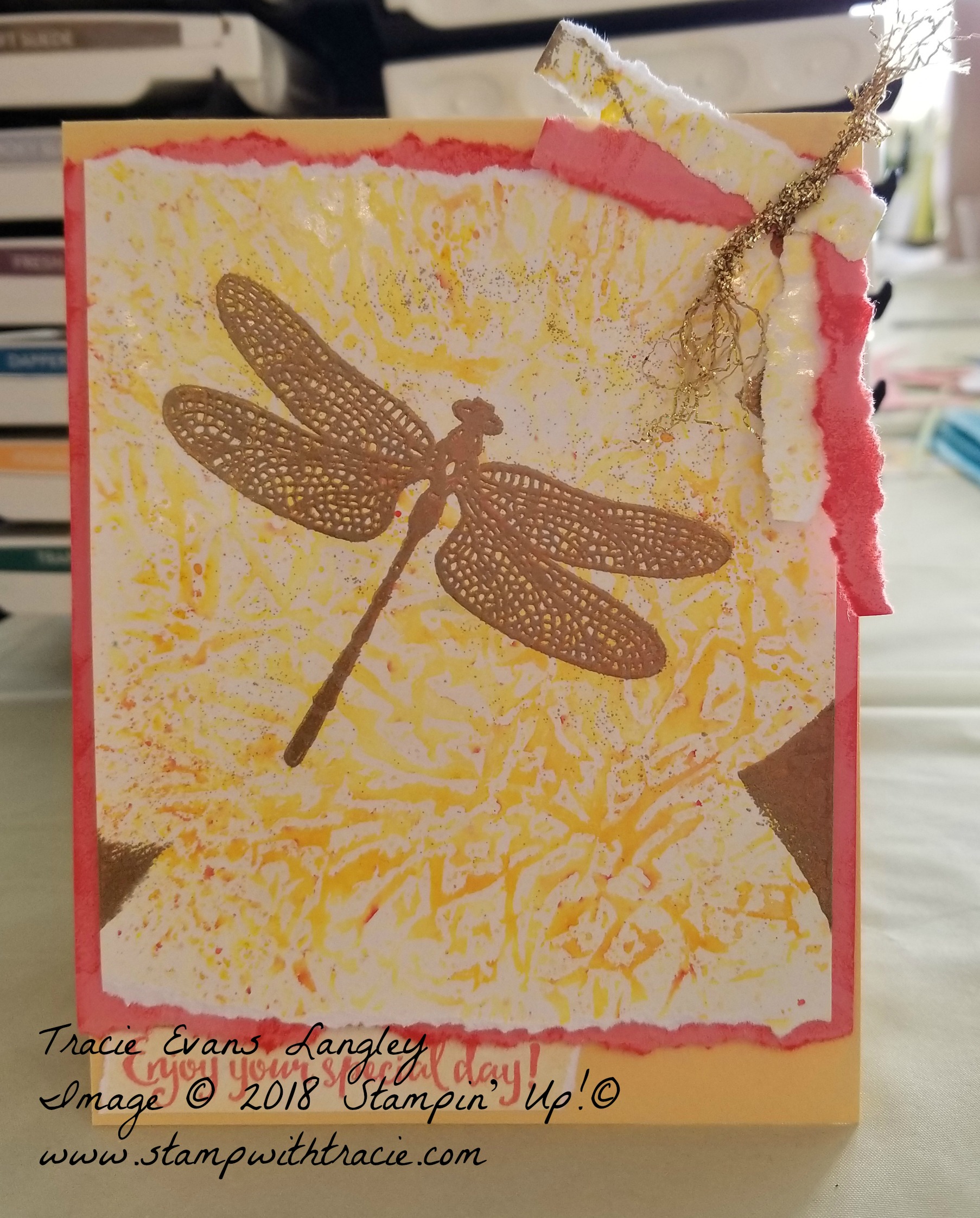 Here are the basic instructions for the technique.
Put your cardstock glossy side up on an ironing board or towel then cut a piece of wax paper a little larger than your cardstock.  Crumple it up, smooth it out and place it on the Glossy Cardstock and cover it with a paper towel. 

Run your heated iron over the top of the paper towel until it is warm to the touch.

Remove the paper towel and wax paper and let the Glossy Cardstock cool.

Cover your work surface with scrap paper before placing your Glossy Carstock on it then spritz the Glossy Cardstock liberally with water.

Sprinkle Brusho onto the wet cardstock and let it spread.  If you like you can spritz a little more to help spread the Brusho.  Be sure to not hold the spritzer too close to the paper. Then gently blot the paper and allow it to dry completely.

Once the paper is dries wipe away any excess powder and ink.

Now stamp and or emboss as you like.
 After I did my embossing I tore my layers and then assembled my cards.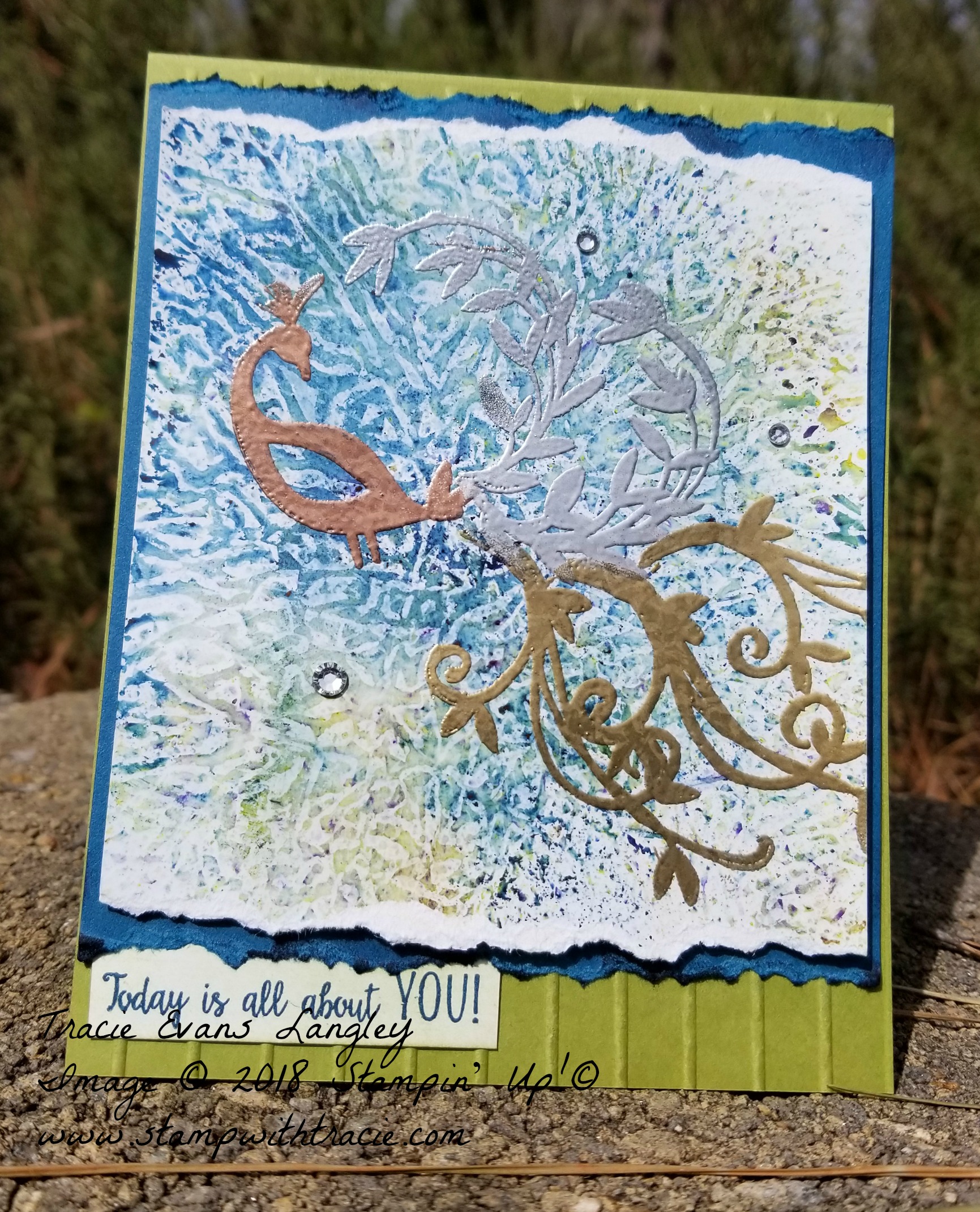 Thank you so much for letting me share my cards with you.  Please let me know if you have any questions or would like to add any of these fun projects with you.  Don't forget that the Beautiful Peacock stamp set is part of this year's Sale-A-Bration products and will not be available after next Saturday, so contact me to place your SAB qualifying order.
That is all I have for you tonight, but don't forget to pop by to see what Laurie Meier's post for this month.  I know it will be fabulous as always!
Happy Stamping!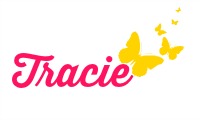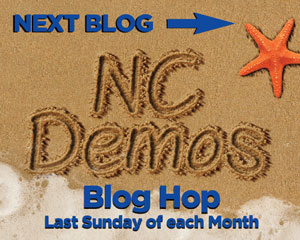 Please contact me if you have any questions about the products I used.
March Blog Hoppers
Toni Campana –http://www.stampinup.net/esuite/home/tonimariscreations/blog?directBlogUrl=/blog/10706/entry/march_nc_demos_blog_hop
Jo Anne Hewins –
http://luv2create.typepad.com/my_blog/2018/03/nc-demo-blog-hop-in-colors-retiring.html
Tracie Evans Langley –
http://www.stampinup.net/esuite/home/traciesallaboutstamping/blog?directBlogUrl=/blog/86481/entry/nc_demos_march_blog_hop3
Laurie Meier –
https://stampedgreetings.com/nc-demos-blog-hop-flowery-retiring-colors/
Sue Root –
https://stampin-with-sue.blogspot.com/2018/03/nc-su-demos-march-blog-hop-using-2016.html
Karel Standish –https://stampininmyjammies.blogspot.com/2018/03/north-carolina-demos-blog-hop.html
Kathy Svedberg –http://www.stampinup.net/esuite/home/craftykathy/blog?directBlogUrl=/blog/2159341/entry/nc_demo_blog_hop_for1
Frances Wagner – https://wagstamps.blogspot.com/2018/03/march-nc-su-demo-blog-hop-retiring-in.html
Christina Walker – http://papergears.com/march-nc-demo-hop/
POSTED AT MAR 25, 2018 08:00 PM  |     COMMENTS [7]
COMMENTS:
Tracie, I love your color selection. Great cards.
Posted by Frances on March 25, 2018 at 08:05 PM #
Great card.
Posted by Christina on March 25, 2018 at 08:30 PM #
Pretty cards! You always have such great techniques. Planning to try this soon.
Posted by Sue Root on March 25, 2018 at 08:43 PM #
Thank you ladies! That is such high praise coming from two such talented stampers!
Posted by Tracie Evans Langley on March 25, 2018 at 09:12 PM #
Love the technique that you used today, Tracie. It's new for me. I will have to try it. My only drawback is actually getting out an iron! Pretty cards!
Posted by Jo Anne Hewins on March 26, 2018 at 06:54 AM #
Tracie – The textures on your cards are wonderful! Thanks for sharing such a great technique. I'm definitely going to try it. So glad to know that your retreat went well!!
Posted by Laurie Meier on March 26, 2018 at 10:48 AM #
Thank you, Jo Anne & Laurie! Jo Anne, it's much more fun to iron when you are crafting! LOL
Posted by Tracie Evans Langley on March 26, 2018 at 11:27 AM #
2018, March 28, NC Demos March Blog Hop – Living In Color