Sunday, June 24, 2018
NC Demos June Blog Hop – What's New With You?
Welcome to the NC Demos Blog Hop!  If you have already stopped by Jo Ann Hewin's fantastic blog you know that this month is all about what's new.  So, what's new in the 2018-2019 Annual Catalog or something new that we demos have tried or learned this month.
I thought I would share two cards with you using the new Sea of Texture bundle.  The first one is a case of one of the cards shown on page 154 of the Annual Catty that my friend and fellow demo, Karel, created during the preorder period when she was nice enough to share her goodies with me before mine arrived.  I really love the DSP on this card and how all the colors blend and then there is just that pop of Berry Burst that is perfect. I also love all the layers created with the Vellum, the net and ribbon. It is just a great card and I was super happy with how mine turned out.  A couple of my customers mention how much they liked it, too and so when I started planning the Summer Edition of Cute Cards Quick this card immediately came to mind as one we should make. There was only one problem. I didn't have enough of the one pattern of Tranquil Textures DSP for everyone to make three of this card.  So, I had to improvise and I think I love the case of my cased card even more!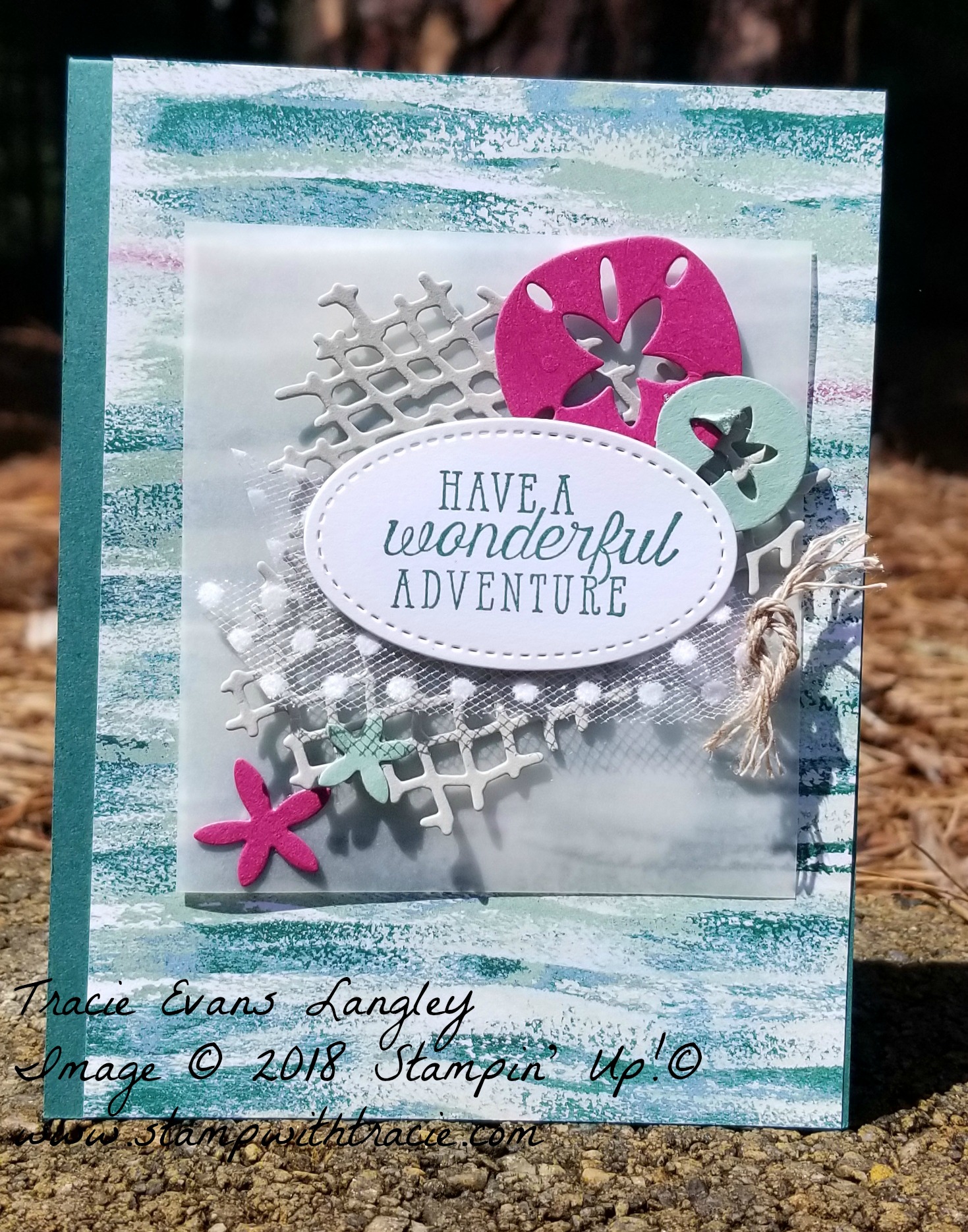 While the new card has lots of layers just like the first one and we had to make our own DSP it still isn't hard to make.  Here are the measurements just in case you are curious:
Tranquil Tide cardbase 5 ½ x 8 ½ and scored at 4 ¼

DSP or Glossy Cardsock 4 x 5 ½

Everything else was scraps
I originally thought I would use Whisper White cardstock with ink pads and markers to ink up my Clear Block F, spritz it with water and use it as a stamp to make my DSP.  However, I then took a look at my paper stash and realized just how much Glossy Cardstock I have been hording, so decided to try something new. I still used my clear block and ink pads to stamp the background, but left off the water.  If you try this yourself remember to always work from your lightest to darkest color. You defiantly don't want dark blue ink on your light green stamp pad. Trust me. Anyway, I first inked my clear block all over with Soft Seafoam, then did lighter touches with Balmy Blue and finally Mint Macaron.  To get the pops of Berry Burst that were in the DSP I took my Berry Burst marker and made a few swishes on the clear block. Next, I just laid the block down onto the Glossy Cardstock and then slide it around a bit to smear and blend the ink. If you want or need more ink you can clean off the block, add more ink and do this process again. It will be fine as long as you clean the block, so you don't muck up your ink pads.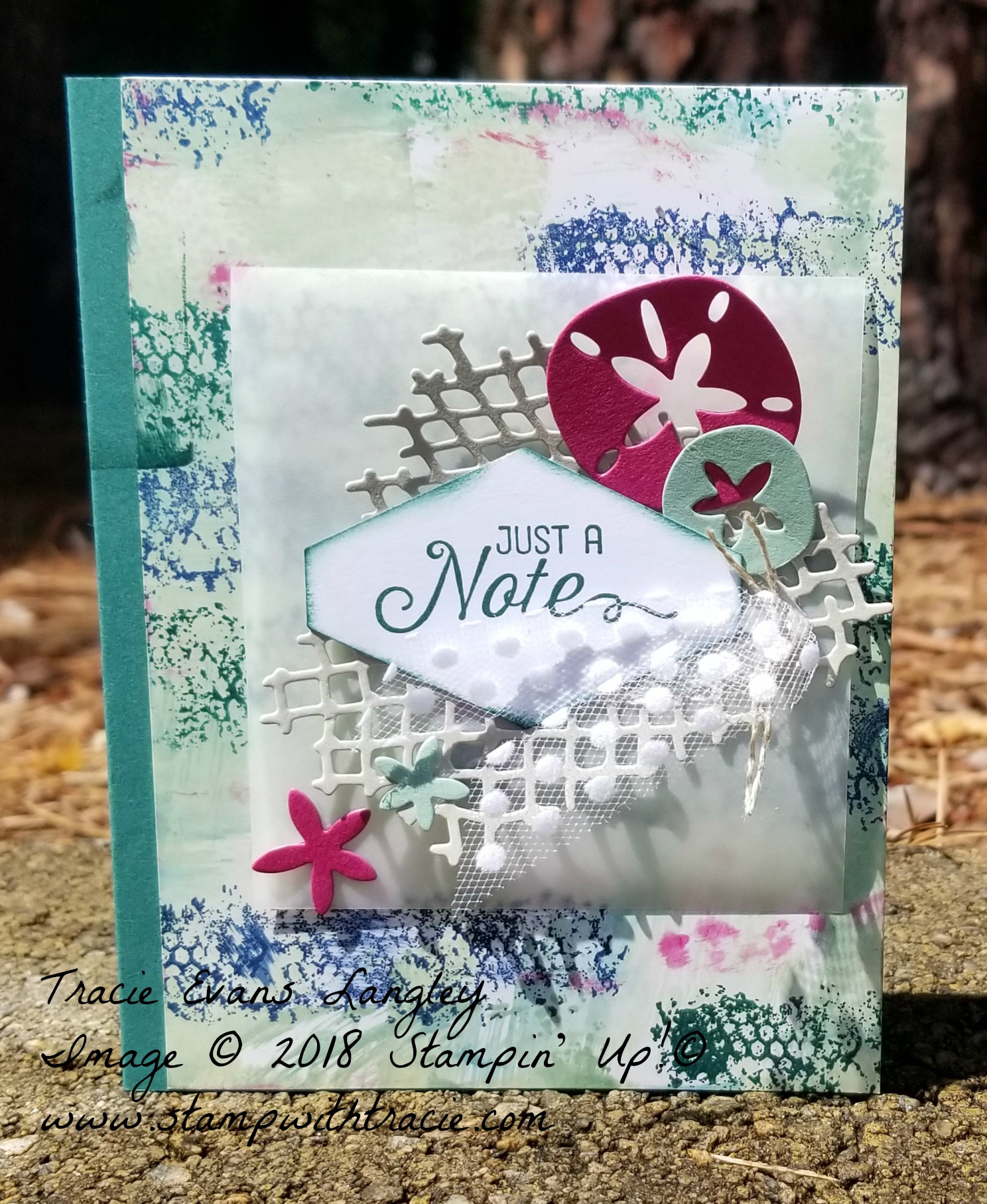 After, stamping with my clear block I stamped using one of the stamps from Sea of Texture in Night of Navy and Tranquil Tide.  They did smear a bit, but I thought it just added to the effect, so I set it aside to dry. I then worked on die cutting, stamping and punching the rest of my card elements while my DSP dried. 
Here is a little hint about how to hide the adhesive when you are working with Vellum.  Assemble all your pieces onto the Vellum first then hide your adhesive behind all your stamped, die cut or punched pieces  In the case of this card I used Mini Dimensionals behind the starfish, sand dollars and the punched greeting.
Once, my Glossy DSP had dried I could quickly assemble the rest of my card.   
Thank you for letting me share something new with you using the Sea of Textures stamp set and a new Glossy Cardstock technique.  I hope I have inspired you to take a look at the new catty and find a card or project to case and try something new. Please let me know if you have questions or need to add anything new to your stamping stash.  I would love to help you!
I am off to play in the pool with the kids, but you aren't done!  Take a minute to check out what's new with Laurie Meier.  I know you will love it!
Happy Stamping!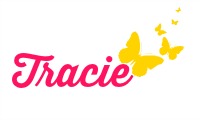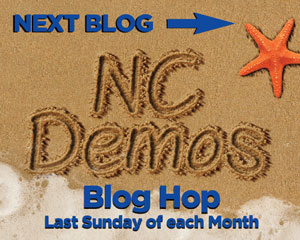 June Blog Hoppers
Toni Campana –
http://www.stampinup.net/esuite/home/tonimariscreations/blog?directBlogUrl=/blog/10706/entry/nc_demos_june_blog_hop
Jo Anne Hewins –
http://luv2create.typepad.com/my_blog/2018/06/nc-demo-blog-hop-for-june-something-new.html
Tracie Evans Langley –
http://www.stampinup.net/esuite/home/traciesallaboutstamping/blog?directBlogUrl=/blog/86481/entry/nc_demos_june_blog_hop2
Laurie Meier –
https://stampedgreetings.com/nc-demo-blog-hop-vivid-vases-narrow-note-card/
Sue Root –
https://stampin-with-sue.blogspot.com/2018/06/nc-su-demos-june-blog-hop-whats-new.html
Sue Stapp – http://suestapp.com/2018/06/22/accented-blooms-shaker-card
Frances Wagner –
https://wagstamps.blogspot.com/2018/06/nc-demos-june-blog-hop-my-favorite-new.html
POSTED AT JUN 24, 2018 08:00 PM  |     COMMENTS [5]
COMMENTS:
Fantastic, Tracie. I love how you made your own DSP. It's an inspiration needed for me to get out that glossy paper. Love the cards.
Posted by Jo Anne Hewins on June 25, 2018 at 03:15 AM #
Tracie, I too love that you made your own designer paper. Your colors for the sand dollars really pop and are perfect. Thanks for sharing.
Posted by Frances on June 25, 2018 at 09:45 AM #
I love your homemade DSP! I'm going to try that 🙂 And a really good tip on how to hide dimensionals or glue dots when we use vellum. I really love your card. I got this set on pre-order and I'm sad to say that I have NOT yet stamped with it 🙁 Of course my life has been a little hectic the last few months, but I definitely want to pull it out and play!!
Posted by Toni Campana on June 25, 2018 at 03:17 PM #
Tracie – I love the cards! The layering of textures and colors are wonderful. And, I agree that the pop of Berry Burst is just perfect. Also, thanks for the tips on creating our own DSP. I have a stash of the Glossy White paper that now has a purpose 🙂
Posted by Laurie Meier on June 25, 2018 at 07:53 PM #
Thank you ladies for your very kind comments. I can't wait to see all the beautiful paper y'all will create!
Posted by Tracie Evans Langley on June 27, 2018 at 09:49 AM #
2018, June 24, NC Demos June Blog Hop – What's New With You?