Sunday, January 27, 2019
NC Demos January 2019 Blog Hop – A Perfect Pair
Thank you for joining us for the NC Demos January Blog Hop.  We are SO glad you are here! If you have already visited Jo Anne Hewins' blog I know you saw a fabulous project featuring this month's theme, A Perfect Pair.  So, what does this mean if you are just starting your blog hop adventure? Well, we wanted to show everyone just how perfectly the Stampin' Up! Products from each catalog pair up with each other.  It's like chocolate and peanut butter getting together to make a Reese's Cup. It's just meant to be!
So, I am sharing a super simple card using the Bloom to Bloom Bundle that I cased from page 24 of the Occasions Catalog.  The Bloom to Bloom set doesn't have any greetings, so and I needed an accessory that I had enough of for all of the ladies coming to my Cute Cards Quick today and later this week, so I went in search of these in my stamping stash.  I ended up pairing the Bloom to Bloom Bundle and the Hand Delivered Hostess set from the Annual Catalog as well as the Leaf Ribbon. We used the Stamparatus at my event today and everyone agreed it made this cheery and bright card very quick.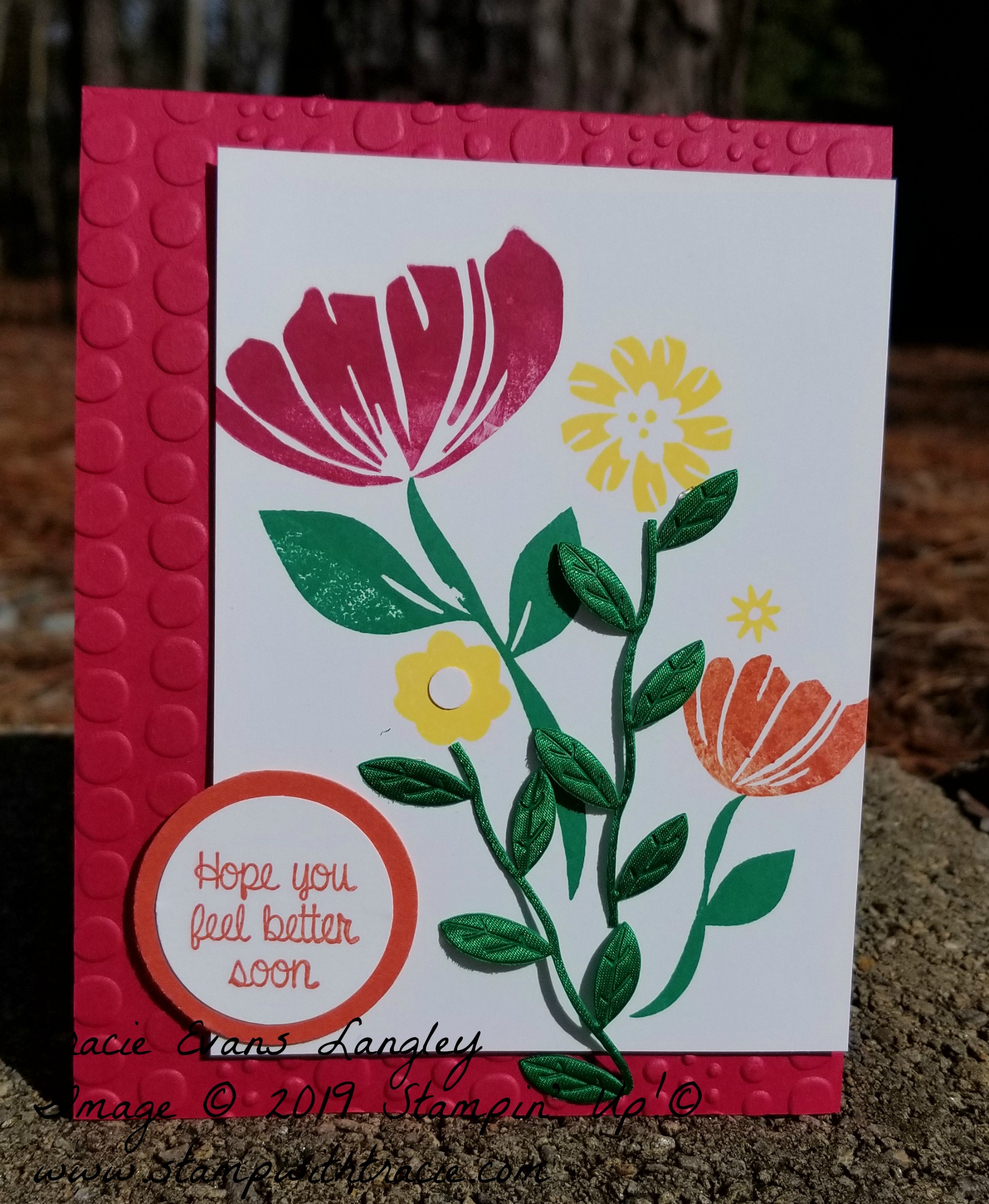 Here are my measurements just in case you need them:
Lovely Lipstick 4 ¼ x 11 and scored at 5 ½

Whisper White 3 ½ x 4 ¾

I used scraps of Whisper White and Calypso Coral for the greeting.  I stamped my greeting and then punched it with the 1 ¼ inch punch.
I started my card by stamping the stems, then the big  flowers and finally the Pineapple Punch ones. My customers who made three of these decided it was easier to stamp each step one at a time and then going back to reposition the cardstock to do the next one. So, they stamped all the stems on each of their three cards, then the big flowers and finally the small yellow ones.
All of the cardstock is attached with Dimensionals and I used Glue Dots to secure the Leaf Ribbon.
I hope you have been inspired to create your own perfect pairs between all the current Catalogs.  If you have questions, need help or need to add any of these supplies to your own crafting stash please let me know.  I would love to help you!
Don't forget to pop over and see the perfect pair Sue Root has to share this month!  I know you will love it!
Thanks again for popping by!  See you next month!
Happy Stamping!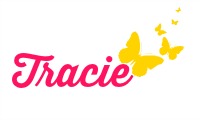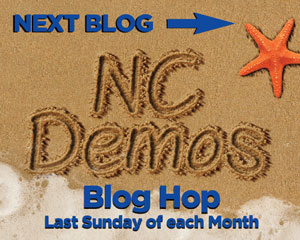 January Blog Hoppers
Toni Campana –
http://www.stampinup.net/esuite/home/tonimariscreations/blog?directBlogUrl=/blog/10706/entry/january_nc_demos_blog_a
Jacalyn Claes –
http://www.stampinup.net/esuite/home/jacalynclaes/blog?directBlogUrl=/blog/2182113/entry/ncc_demos_january_2019_blog
Jo Anne Hewins –
https://luv2create.typepad.com/my_blog/2019/01/nc-demo-blog-hop-for-january-pairing-the-new-with-the-old.html
Tracie Evans Langley –
http://www.stampinup.net/esuite/home/traciesallaboutstamping/blog?directBlogUrl=/blog/86481/entry/nc_demos_january_2019_blog
Sue Root –
https://stampin-with-sue.blogspot.com/2019/01/nc-su-demos-january-blog-hop-perfect.html
Robbie Rubala –
https://creationsinpaper.com/stampin-up-scalloped-tag-topper-punch-idea/
Sue Stapp –
http://suestapp.com/2019/01/27/january-blog-hop-for-north-carolina-demonstrators
Cheryl Svendsen –
http://www.stampinup.net/esuite/home/cascards/blog?directBlogUrl=/blog/2078340/entry/january_nc_demos_blog_hop1
Anita Trippi –
https://www.stampinwithanita.com/2019/01/nc-demo-january-2019-blog-hop-perfect.html
Frances Wagner –
https://wagstamps.blogspot.com/2019/01/nc-demos-january-2019-blog-hop.html
POSTED AT JAN 27, 2019 08:00 PM  |     COMMENTS [6]
COMMENTS:
Tracie, I love the Bloom to Bloom and love your card and the bright colors you used. Thanks for sharing.
Posted by Frances Wagner on January 27, 2019 at 08:11 PM #
Love the use of the leaf ribbon! Really adds texture to the card.
Posted by Robbie on January 27, 2019 at 08:27 PM #
Very pretty card. I love how you used the leaf ribbon for the stem.
Posted by Sue Root on January 27, 2019 at 08:35 PM #
Using the catalog as inspiration is always a good thing. I do love your use of the ribbon. I bought it and have never used it. I'm going to get it out! Thank you!
Posted by Jo Anne Hewins on January 28, 2019 at 07:25 AM #
Tracie, Very pretty and a great way to use the ribbon. Never thought of using it that way. Thanks for the inspiration.
Posted by Sonya Watson on February 03, 2019 at 11:34 AM #
Thank you, Sonya!
Posted by Tracie Evans Langley on February 03, 2019 at 01:03 PM #
Product List
$36.00
$13.00
$110.00
$8.50
$49.00
$16.00
$16.00
$10.00
$30.00
$30.00
$8.00
$4.00
$5.25
$8.50
$8.50
$9.75
$7.50
$7.50
$7.50
$7.50
2019, January 27, NC Demos January 2019 Blog Hop – A Perfect Pair