Sunday, February 24, 2019
NC Demos February 2019 Blog Hop – Keeping it in the Lines
Hello and welcome to the February edition of the NC Demos Blog Hop! We are so glad you are here. If you stopped by Jo Anne Hewins' page you already have seen a wonderful project and know that this month's theme is staying in the lines which is all about coloring! Stampin' Up! has so many wonderful products that help even beginning stampers to feel like real artists.
I have a confession to make. I am not the best at coloring and it really isn't my favorite thing to do, but using the blends and the watercolor pencils with a blender pen make me feel like a real pro. I am sharing two projects with you this month both of which use the Home to Roost set that is available with your Sale-A-Bration (SAB) qualifying order of $50 before tax and shipping.
My first project was one I made with my customers at my Sale-A-Celebration Celebration party in January. It is a complete case of the project on page 11 of the SAB catalog. It uses the note cards and envelopes which I think are amazing especially if you need to make a lot of cards quickly.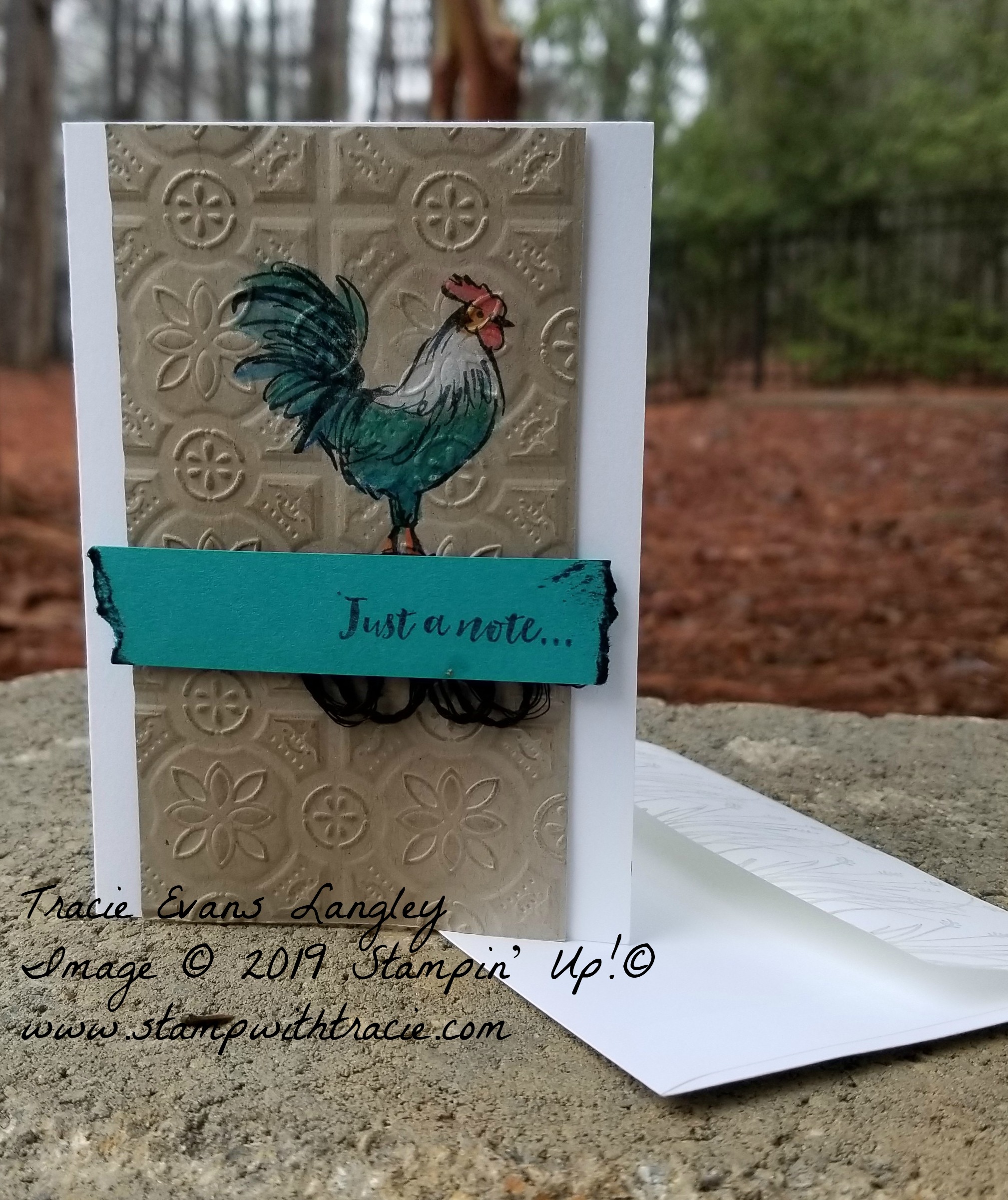 As always I started my project by cutting my miscellaneous pieces of card stock. I then stamped my rooster with the memento ink pad and colored him using 1st the watercolor pencils and then blending everything with a blender pen. After coloring and blending my watercolors pencil I used the Tin Tile embossing folder and ran it through the Big Shot. Please note that I did not spritz it with water but did run it through twice. Then all I had to do was put my pieces together using Multi purpose glue and Stampin' Dimensionals.  I did use a little bit of SNAIL to help me adhere the Basic Black Bakers Twine to the back of my greeting.
My second card was cased from a fellow demo. I now cannot find where i saw it, but I don't ever want to take credit for work that isn't mine.  Of course, I did tweak it a bit.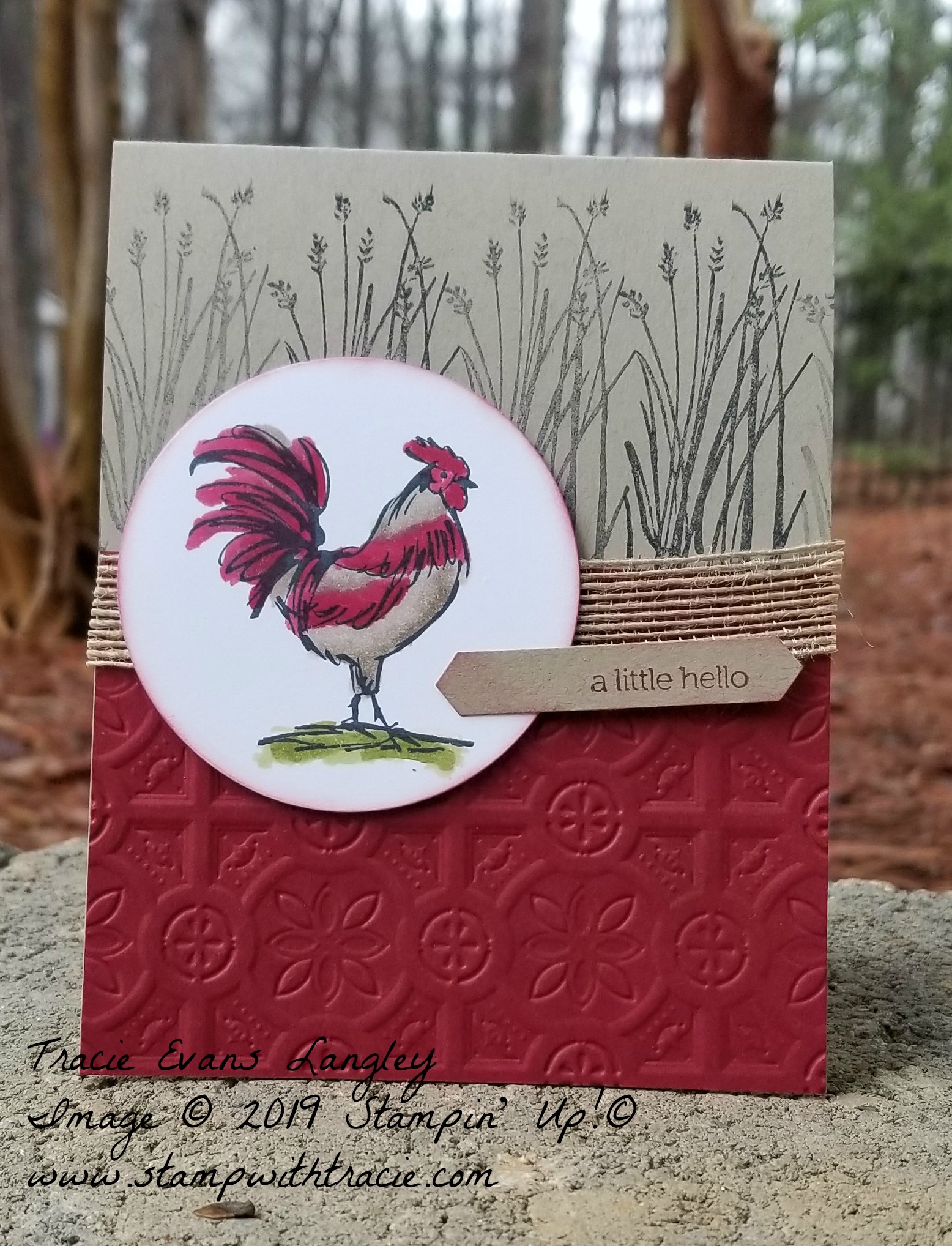 After cutting my cardstock, I embossed my Cherry Cobbler cardstock and then die cut the circle for my rooster which I stamped with the Memento ink pad. I then used the Cherry Cobbler, Crumb Cake and Old Olive Blends to color the rooster.  Once that was all done I stamped the grass in Memento on the Crumb Cake cardbase and put everything together using Multipurpose Glue, Dimensionals and Tear & Tape for the Burlap Ribbon.
Thank you for letting me share my experiments in coloring.  If you have any questions or would like to add any of these or other products to your own stampin' stash please contact me.  I would love to help you!
I am now off to check out what Sharon Maranich has to share with us this month.  I'm sure it's fabulous. If you haven't already stopped by there please hop along with me!  
Until next month…..
Happy Stamping!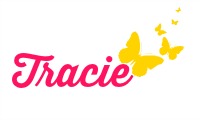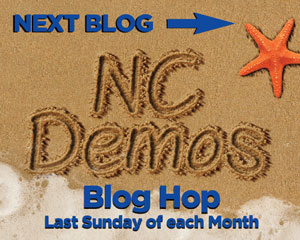 February log Hoppers
Toni Campana –
http://www.stampinup.net/esuite/home/tonimariscreations/blog?directBlogUrl=/blog/10706/entry/nc_demos_february_blog_hop
Jo Anne Hewins –
https://luv2create.typepad.com/my_blog/2019/02/nc-demo-blog-hop-for-february-inside-the-lines.html
Tracie Evans Langley –
http://www.stampinup.net/esuite/home/traciesallaboutstamping/blog?directBlogUrl=/blog/86481/entry/nc_demos_february_2019_blog
Sharon Maranich –
https://inkiefinger.blogspot.com/2019/02/blog-hop-keeping-it-in-lines.html
Sue Root –
https://stampin-with-sue.blogspot.com/2019/02/nc-su-demos-february-blog-hop-keeping.html
Robbie Rubala – https://creationsinpaper.com/glycerin-colored-serene-garden/
Sue Stapp – http://suestapp.com/2019/02/23/masculine-birthday-card
Anita Trippi –
https://www.stampinwithanita.com/2019/02/nc-demos-february-2019-blog-hop.html
Frances Wagner –
https://wagstamps.blogspot.com/2019/02/nc-demos-february-2019-blog-hop.html
POSTED AT FEB 24, 2019 08:00 PM  |     COMMENTS [4]
COMMENTS:
Both of your cards are great! I hadn't thought I'd get this set, but I may have to re-evaluate that decision.
Posted by Sue Root on February 24, 2019 at 08:16 PM #
That rooster is adorable! Great coloring and love how you embossed the first card after you colored it.
Posted by Robbie on February 24, 2019 at 09:03 PM #
I love that rooster and I love the TinTile EF. Together they are wonderful. I tend to forget about the watercolor pencils. Love how that looks on the Crumb Cake. Great cards.
Posted by Jo Anne Hewins on February 24, 2019 at 09:06 PM #
Love your roosters. That is one of my favorite sets. The embossing folder looks great with the rooster. Thanks for sharing.
Posted by Frances Wagner on February 24, 2019 at 09:52 PM #
2019, February 24, NC Demos February 2019 Blog Hop – Keeping it in the Lines