Sunday, March 31, 2019
NC Demos March 2019 Blog Hop – Celebrating Easter With Cute Critters
Good evening and thank you for stopping by for this month's NC Demos Blog Hop featuring cute critters!   I am sure you saw something adorable on Sue Stapp's page.  As you may know if you follow my blog I love love fur babies in particular my kitty cats (Emmie Lou is in my lap helping me write this post) and usually I would have created a project with cats or dogs, but with Easter just around the corner my customers asked me to create an Easter Sampler and how could I not use the Fabled Friends stamp set as a featured part of it.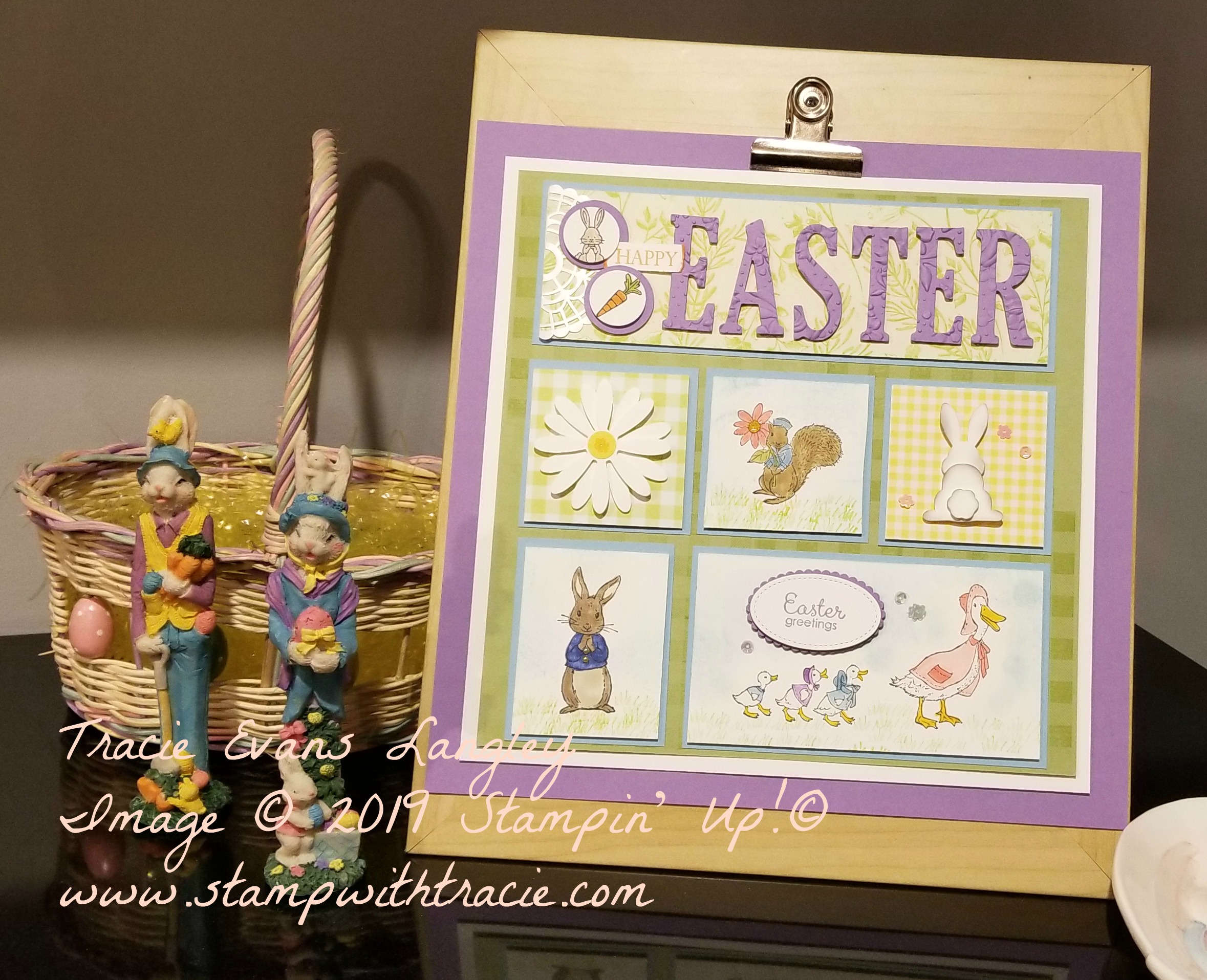 This sampler really isn't too hard to make.  I actually had two ladies join us this month who had never stamped before and they both not only completed theirs in record time, but they looked just as fantastic as everyone else's.  If you are going to copy a sampler I suggest cutting all of your cardstock first, then build each square and lastly work from the base of your sampler up. In this case the 12×12 piece up to the top.  Another thing I have discovered is that you can NEVER use enough dimensionals! So, there are Dimensionals between each layer of the sampler base and to attach the sampler blocks together. I do always use the Multipurpose Glue to attach the blocks to the base.  Since the glue does dry immediately you can make sure your block is where you want it and straight. 
All of the stamped images were stamped with the Tuxedo Black stamp pad and then colored with Blends Markers.  The sky on the all the squares was created using the Balmy Blue Classic Ink and sponges.
That all said here are the measurements and some basic instructions.
12 x 12 Highland Heather

103/4 x 10 ¾ Whisper White

10 ¼ x 10 ¼ Pear Pizzazz
Happy Easter Block
Balmy Blue cs 9 ¼ x 3, Botanical Butterfly DSP 9 x 2 ¾, Large Letters Framelits cut out of Highland Heather cs and embossed with the Country Floral Dynamic TIEF.  The bunny and carrot are from the Best Bunny stamp set.
Daisy Block
Balmy Blue cs 3 x 3, Gingham Gala DSP 2 ¾ x 2 ¾. Punch two daisies out Whisper White Thick cs with the Daisy Punch and attach together with a Mini Dimensional.  Punch your center out of a scrap of Daffodil Delight and attach with Multipurpose Glue.
A Little Squirrelly Block
Balmy Blue cs 3 x 3, Whisper White Cardstock 2 ¾ x 2 ¾.
Bunny Back Block
Balmy Blue cs 3 x 3, Gingham Gala DSP 2 ¾ x 2 ¾. Use the Bunny Builder Punch with Whisper White Thick cs.  Use a Sponge Dauber and Smoky Slate ink for shading then attach your bunny together with Dimensionals.
Peter Rabbit Block 
Balmy Blue 3 ½ x 2 ¾, Whisper White 3 ¼ x 2 ½.  Use the Light Night of Navy Blends and the Color Lifter for jacket.
Just Ducky Block
Balmy Blue cs 6 ¼ x 3 ½, Whisper White 6 x 3 ¼.  Stamp greeting on Whisper white in Highland Heather ink and cut out with the Stitched Framelits.
Thank you for stopping by and letting me share my Easter Sampler with you.  If you have any questions about this or any other project please let me know.  I would love to help you!
I am off to see what Jo Anne Hewins' has created for tonight.  She is SO creative! I hope you will hop along with me to see this and the rest of this month's cute critter creatations!  See you next month!
Happy Stamping!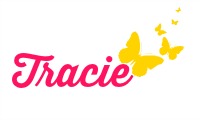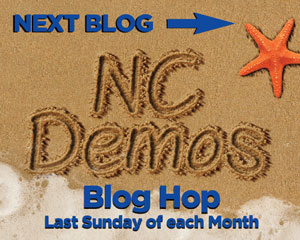 March Blog Hoppers
Jackie Claes –
http://www.stampinup.net/esuite/home/jacalynclaes/blog?directBlogUrl=/blog/2182113/entry/nc_demos_march_2019_blog
Tina Lesson –
https://stampingkz.blogspot.com/2019/03/march-2019-nc-demos-blog-hop.html
Trish Todd –  https://stampinawesome.com/2019/03/31/__trashed/
Toni Campana –
http://www.stampinup.net/esuite/home/tonimariscreations/blog?directBlogUrl=/blog/10706/entry/nc_demos_march_blog_hop
Sue Stapp – http://suestapp.com/2019/03/27/march-blog-hop
Tracie Evans Langley –
http://www.stampinup.net/esuite/home/traciesallaboutstamping/blog?directBlogUrl=/blog/86481/entry/nc_demos_march_2019_blog
Jo Anne Hewins –
https://luv2create.typepad.com/my_blog/2019/03/nc-demo-blog-hop-for-march-cute-critters-1.html
Laurie Meier – https://stampedgreetings.com/fable-friends-shadowbox-card/
Frances Wagner –
https://wagstamps.blogspot.com/2019/03/nc-demo-march-2019-blog-hop.html
Anita Trippi – https://www.stampinwithanita.com/2019/03/nc-demos-march-2019-blog-hop.html 
POSTED AT MAR 31, 2019 08:00 PM  |     COMMENTS [4]
COMMENTS:
Tracie,I always love your samplers and you did not disappoint this time either. So cute.
Posted by Frances Wagner on March 31, 2019 at 09:34 PM #
Oh my! Your Easter sampler is great with so many images from the Fable Friends set. Love it!
Posted by Laurie Meier on March 31, 2019 at 09:35 PM #
Wow! Tracie your sampler is fantastic. Those animals in Fable Friends are so cute. Love every section.
Posted by Jo Anne Hewins on March 31, 2019 at 09:39 PM #
Thank you, ladies!
Posted by Tracie Evans Langley on March 31, 2019 at 09:50 PM #
  Product List
$22.00
$30.50
$15.00
$110.00
$99.00
$35.00
$30.00
$0.00
$49.00
$16.00
$13.00
$6.00
$18.00
$10.00
$30.00
$4.00
$9.75
$0.00
$11.00
$4.50
$7.50
$6.00
$4.00
$4.00
$12.00
$7.75
$7.75
$6.00
$9.00
$9.00
$9.00
$9.00
$9.00
$4.50
$4.50
$4.50
$9.00
$4.50
$4.50
$7.50
$7.50
$7.50
$5.00
$7.50
$7.50
$3.50
2019, March 31, NC Demos March 2019 Blog Hop – Celebrating Easter With Cute Critters