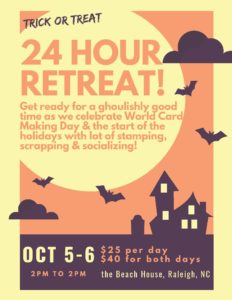 Come kick off the biggest card making season with me at this ghoulishly good event!  Bring your Fall, Halloween, Thanksgiving, Christmas, and other holiday projects and let's get them done!  Once again we will be taking over the main house where everyone will have a personal workspace and you are welcome to use my stamps, ink, dies, punches, embossing folders and other tools and toys!·
Your registration fee also includes the following:
Personal workspace and Fall & Halloween table treats
Use ANY and ALL of my stamping and crafting goodies
A fabulous Fall Chili Bar Saturday night, Brunch on Sunday and yummy snacks throughout the event!
Full access to the pool and spa – don't forget your swimsuit and towel.
Overnight Accommodations
There are limited accommodations at a small additional charge for those of you who live too far away or do not wish to drive home on Saturday night. These are on a first come, first serve basis. Fee includes towels, sheets, pillow, blanket, and a mint on your pillow! You don't even have to make your bed!  We have that covered!
$25 per bed
We will set up space for any of you who wish to bring your own air mattress for the night.
Cost $10 but you have to provide your own mint.  Just kidding.  You get a mint, too!
Cute Cards Quick Card Buffet
There will be a Card Buffet for those of you who are all caught up on your own projects or just need to make a really cute card quick.  Cards are $2 each and will be holiday themed.  Feel free to bring your own envelopes to stamp to match your cards.  As always, your own adhesive is a MUST!
Cost $2 per card
Happy Haunting Halloween Sampler
Need a creepy, crawly and cute Halloween Sampler?  Well, get ready!  This year's sampler will feature products from the 2019 Holiday Catalog including the Wonderfully Wicked Bundle and The Raven stamp set!  Kit fee includes ALL supplies including adhesive.  Reserve your 12×12 Sampler Kit by Monday, September 23rd.
Cost $28 per kit
Feel free to bring your favorite beverage and if you wish a snack to share!
Reserve your spot with a $25 non-refundable deposit. Final payment due Monday, September 30th. 
Registration ends on Monday, September 23rd. 
Please feel free to contact me at 919-906-8441 r tracie@stampwithtracie.com if you have any questions.
I look forward to a having a hauntingly happy good time with you!
Happy Stamping!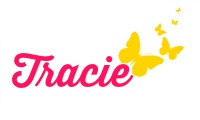 Trick or Treat! It's Time for a 24 Hour Retreat!