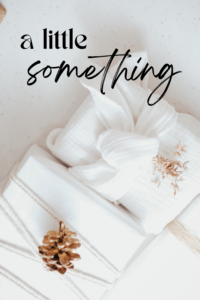 Good evening and welcome to our NC Demo monthly Blog Hop.  If you haven't already done so, be sure to hop all the way around to see
Jo Anne Hewins'
project.  I know it's awesome!  Be sure to hop all the way around to see all the amazing projects!
We are heading into the holiday season! Parties, dinners and just getting together with friends and family. So, this was a perfec
t time for us to share some ideas for hostess gifts and/or party favors!
Our official theme is, "a little something." Our projects could be anything EXCEPT a single card. It could be a set of cards, tags, a small decor piece, a gift card holder, etc.. Something you would give a s gift to say thank you to your hostess or a party favor to let your guests know how are!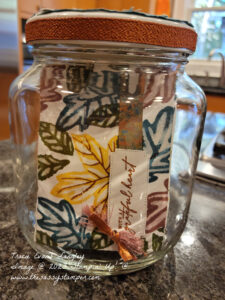 So, my project started with the Note Cards and Envelopes.  I had some leftover from a past event and thought they would make an excellent gift, as my rules for gift giving are that things MUST be useful, consumable (like food, candles, soaps, etc..or they must be very sentimental.  So, the note cards fit those parameters.  My next step was to figure out what I was going to use as a container for my note cards.  I remembered a project from years ago where we used a jar for this purpose and since I love to recycle items for my projects and have a ton of jars saved, this was the perfect solution!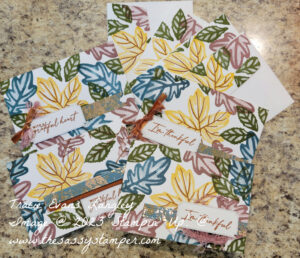 This project is super basic and easy!  There really aren't any set measurements and I didn't even cut any cardstock since I was using the Note Cards and Envelopes.  All the the DSP on the Note Cards were leftover pieces from one of the cards from World Card Making Day.  I didn't even measure the ribbon or twine.
Here are a few helpful hints for creating the storage jar:
First, find a jar with a mouth large enough for the cards and envelopes to slid in easily.  You don't want  to bend them.
We don't have a die large enough to cut a piece of cardstock to cover the lid, so I traced around the lid with a pencil, then fussy cut the Pretty Peacock cardstock.
I used Tear & Tape to adhere the Copper Clay Ribbon and the Faux Suede piece of Pretty Peacock cardstock to the lid.
I used Mini Dimensionals to attach the greeting onto the top of the lid first then use Multipurpose Glue to adhere the leaves.  I meant to add some embellishments as well, but got so excited that I forgot to do so before I took the picture.  I will probably go back and add something.
And that is it!  This really was a fun and easy project.  The hardest part is going to be giving it away as I really love how it turned out.  I may just have to make another one! =-)
Thank you for letting me share my Autumn themed gift with you. Please contact me if you have questions or would like to order any of the supplies I have used.  I would love to help you!
Now, hop along with me to see what
Ronnie Johnson
is sharing this month!  She does amazing work!  I know you will be inspired!
Until next time, Stay Safe & Crafty!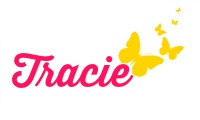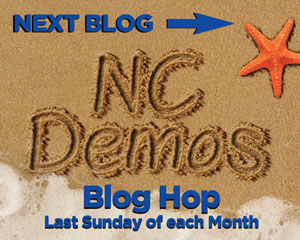 Product List
NC Demos October 2023 Blog Hop – A Little Something