Sunday, January 28, 2018
NC Demos January Blog Hop – Let's Sale-A-Brate!
Good evening!  If you are just joining us welcome to January edition of the NC Demos Blog Hop.  If you have already been Sale-A-Brating with us and just visited Jo Anne's page I know you have already been inspired.  She does such great stuff! I have been know to case more than a few of her projects in the past and i am sure I will have to make her latest one, too!
So, I decided to share two cards we made this month at the Stamp Pad that I cased from projects shown at OnStage in Salt Lake City this past November.  We made the first card at my Sale-A-Bration Celebration party early in January to kick off the new catalogs. When I realized I had leftover supplies I decided to step up the card design and use it for my January Terrific Techies and Hen Party Hostess Clubs.  Both cards use the Amazing You stamp set and Celebrate You Thinlits, that you can ONLY get with your Sale-A-Bration qualifying order, along with cardstock, ink and accessories found in the Annual and Occasions Catalogs.  However, I stepped up the second card by using Watercolor paper and Brusho (I am addicted to this stuff) for the second card for my Hostess Clubs.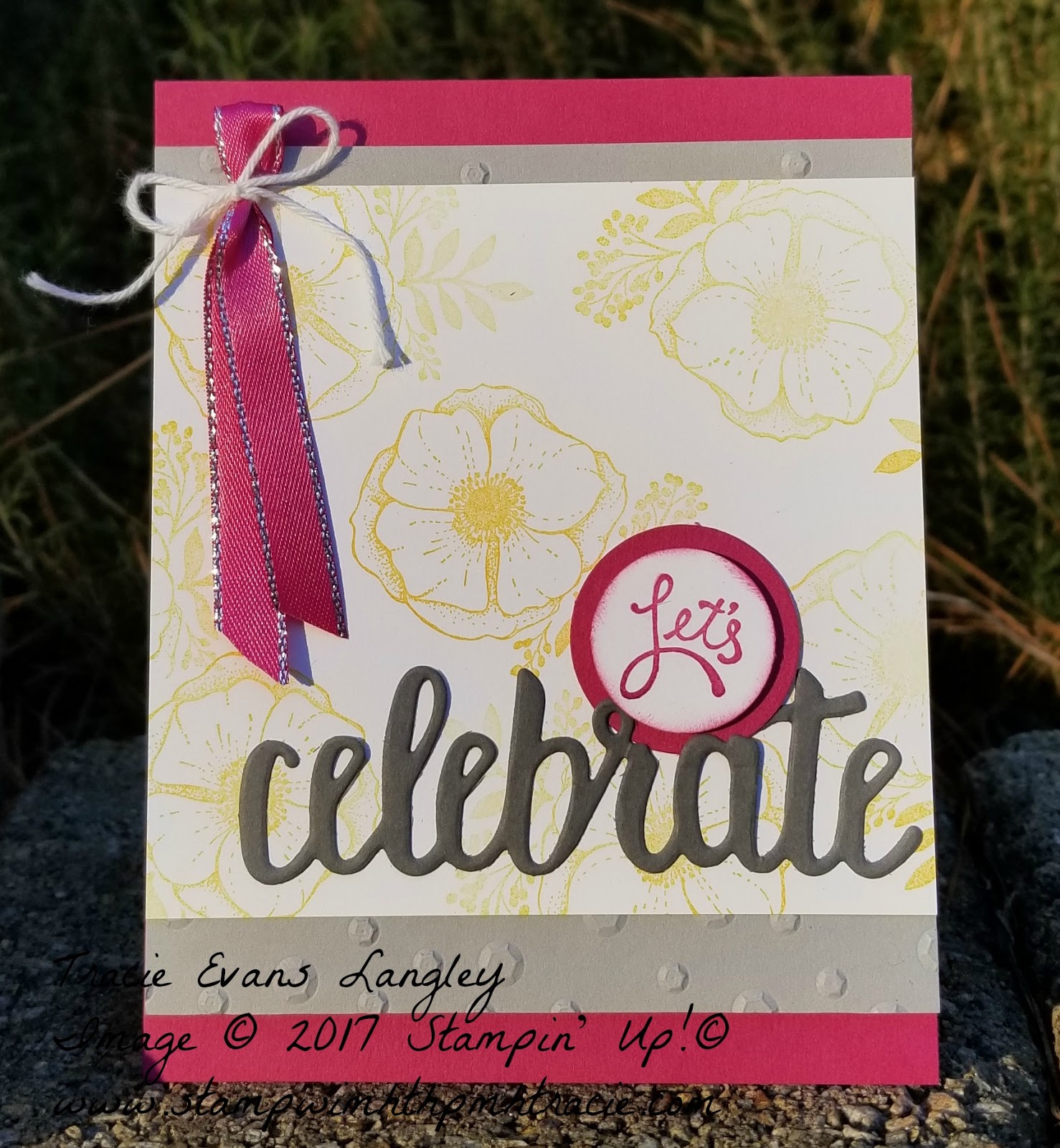 Here are the measurements for both cards:
Berry Burst cardbase 4 1/4 x 11 and scored at 5 1/2

Smoky Slate 4 1/4 x 4 3/4

Whisper White on the top card 4 x 4 1/4

Watercolor Paper on the bottom card 3 x 4 1/4

Berry Burst Metallic Edged Ribbon and Whisper White Baker's Twine 6 1/2 inches

Scraps of Basic Gray to use with Mulitipurpose Adhesive Sheets for the "Calebrate"

Scraps of Berry Burst and Whisper White for the "Let's"
As you can see I used the very pretty Berry Burst ribbon from the Occasions Catalog tied with a little Baker's Twine bow on both cards.  Here's a little hint for keeping the ribbon where you want it. Put a little piece of Tear & Tape one your card then put the ribbon on top of it.  It holds it tight and helps the tails of your ribbon hang where you want them down the side.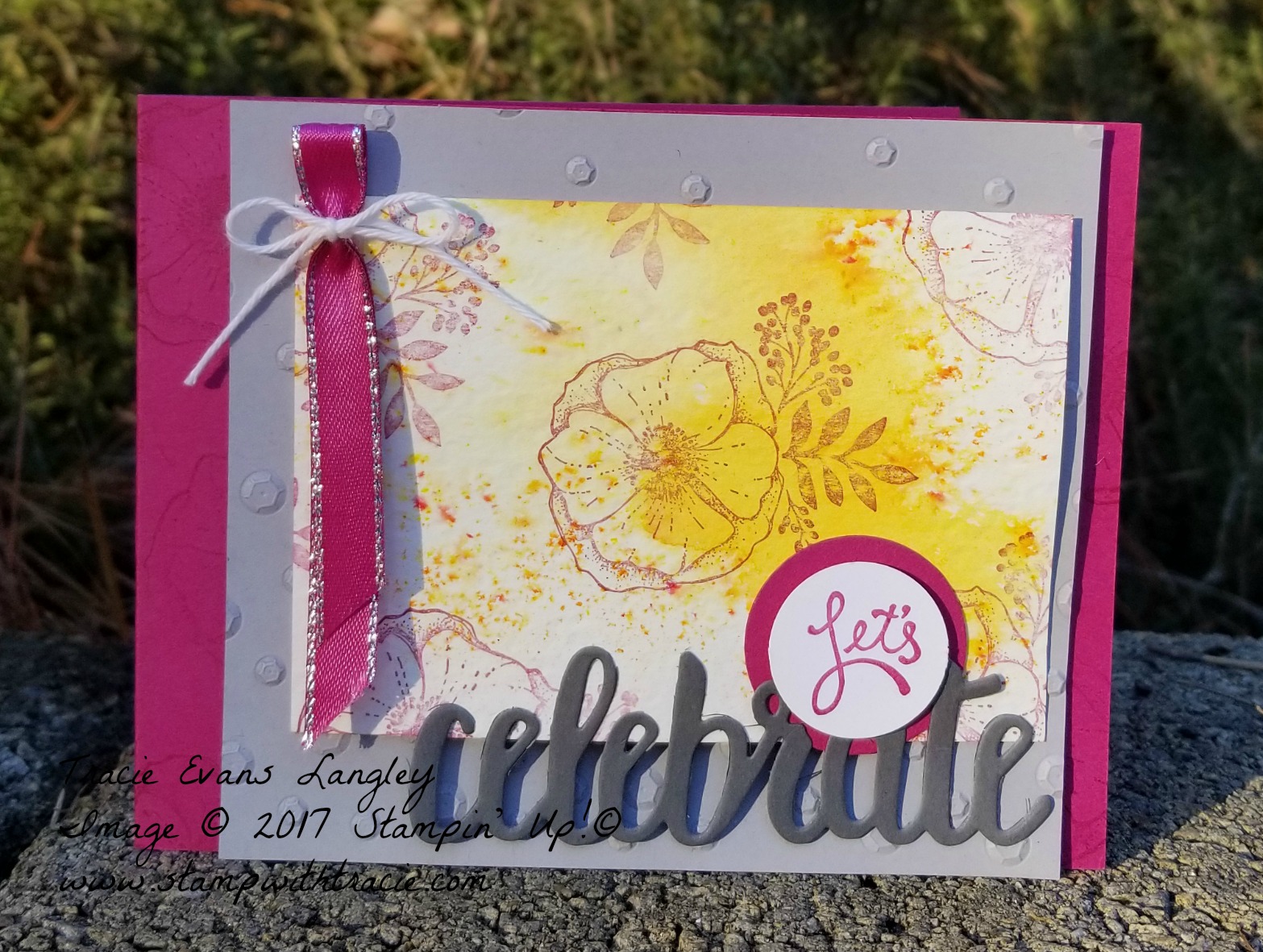 So, have you tried the Brusho yet?  Yes, I know there is a bit of sticker shock when you first see it, but if you think about it it is comprable in price to our stamp pads and you do get five colors that coordinate with our other colors.  And I will tell you that a little Brusho goes a LONG way! You do want to watch the fabulous video Stampin' Up! has made about Brusho basics.  The most important thing in that you DO NOT ever open the lid!  It is like feeding Gremlins after midnight! Not a good idea! Just use your Piercing Tool to poke holes in the top of the lid then shake the bottle like a salt shaker.  I created the background for my card by first spritzing water pretty liberally onto Watercolor Paper then sprinkling on the Yellow Brusho. Then I just wiggled the paper around and added a more water or Brusho until I liked the look of the paper.  I then set it aside to dry completely. Once it was dry I stamped the flowers from Amazing You in Berry Burst Classic Ink. I just love the depth and interest that adding the Brusho gave to this project. Now to find someone special to give this card!
That is all I have to share for this month, but I know Laurie has something amazing waiting for you!  So, enjoy the rest of this month's Blog Hop and please let me know if you have questions or need to add any of the products I have shown you to your stamping collection.  I would love to help you Sale-A-Brate!
Happy Stamping!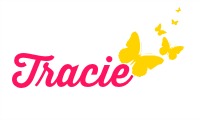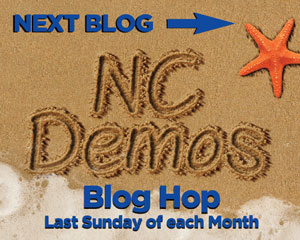 January Blog Hoppers
Kayla Adams –
https://thecreativitycoop.blogspot.com/2018/01/nc-demo-january-blog-hop-sale-bration.html
Toni Campana –
http://www.stampinup.net/esuite/home/toni/blog?directBlogUrl=/blog/10706/entry/sale_a_brate
Tamra Davis –
http://www.theCardLadies.com/nc-demos-blog-hop-blends-meet-foil/
Jo Anne Hewins –
http://luv2create.typepad.com/my_blog/2018/01/nc-demo-blog-hop-all-about-sale-a-bration.html
Tracie Evans Langley –
http://www.stampinup.net/esuite/home/traciesallaboutstamping/blog?directBlogUrl=/blog/86481/entry/nc_demos_january_blog_hop1
Laurie Meier –
https://stampedgreetings.com/nc-blog-hop-its-the-most-wonderful-time-of-the-year/
Kat Spencer –
http://www.papercraftingbykat.com/blog/nc-demos-sale-ary-2018-blog-hop/
Sue Stapp –
http://www.stampinup.net/esuite/home/suestapp/blog?directBlogUrl=/blog/2152011/entry/nc_demos_blog_hop_january
Kathy Svedberg –
http://www.stampinup.net/esuite/home/craftykathy/blog?directBlogUrl=/blog/2159341/entry/nc_demo_blog_hop_for
Frances Wagner – https://wagstamps.blogspot.com/2018/01/nc-blog-hop-sab.html
Christina Walker – http://papergears.com/sale-a-brate-with-nc-demos
2018, January 28, NC Demos January Blog Hop – Let's Sale-A-Brate! Good evening! If you are just joining us welcome to January edition of the NC Demos Blog Hop. If you have already been Sale-A-Brating with us and just visited Jo Anne's page I know you have already been inspired. She does such great stuff! I have been know to case more than a few of her projects in the past and i am sure I will have to make her latest one, too! So, I decided to share two cards we made this month at the Stamp Pad that I cased from projects shown at OnStage in Salt Lake City this past November. We made the first card at my Sale-A-Bration Celebration party early in January to kick off the new catalogs. When I realized I had leftover supplies I decided to step up the card design and use it for my January Terrific Techies and Hen Party Hostess Clubs. Both cards use the Amazing You stamp set and Celebrate You Thinlits, that you can ONLY get with your Sale-A-Braton qualifying order, along with cardstock, ink and accessories found in the Annual and Occasions Catalogs. However, I stepped up hte second card by using Watercolor paper and Brusho (I am addicted to this stuff) for the second card for my Hoetess Clubs. Here are the measurements for both cards: Berry Burst cardbase 4 1/4 x 11 and scored at 5 1/2 Smoky Slate 4 1/4 x 4 3/4 Whisper White on the top card 4 x 4 1/4 Watercolor Paper on the bottom card 3 x 4 1/4 Berry Burst Metallic Edged Ribbon and Whisper White Baker's Twine 6 1/2 inches Scraps of Basic Gray to use with Mulitipurpose Adhesive Sheets for the "Calebrate" Scraps of Berry Burst and Whisper White for the "Let's" As you can see I used the very pretty Berry Burst ribbon from teh Occasions Catalog tied with a little Baker's Twine bow on both cards. Here's a little hint for keeping the ribbon where you want it. Put a lttle piece of Tear & Tape one your card then put the ribbon on top of it. It holds it tight and helps the tails of your ribbon hang where you want them down the side. So, have you tried the Brusho yet? Yes, I know there is a bit of sticker shock when you first see it, but if you think about it it is comperable in price to our stamp pads and you do get five colors that coordinate with our other colors. And I will tell you that a little Brusho goes a LONG way! You do want to watch the fabulous video Stampin' Up! has made about Brusho basics. The most important thing in that you DO NOT ever open the lid! It is like feeding Gremlins after midnight! Not a good idea! Just use your Piercing Tool to poke holes in the top of the lid then shake the bottle like a salt shaker. I created the background for my card by first spritzing water pretty liberally onto Watercolor Paper then sprinkling on the Yellow Brusho. Then I just wiggled the paper around and added a more water or Brusho until I liked the look of the paper. I then set it aside to dry completely. Once it was dry I stamped the flowers from Amazing You in Berry Burst Classic Ink. I just love the depth and interest that adding the Brusho gave to this project. Now to find someone special to give this card! That is all I have to share for this month, but I know Laurie has something amazing waiting for you! So, enjoy the rest of this month's Blog Hop and please let me know if you have questions or need to add any of the products I have shown you to your stamping collection. I would love to help you Sale-A-Brate! Happy Stamping! January Blog Hoppers Kayla Adams – https://thecreativitycoop.blogspot.com/2018/01/nc-demo-january-blog-hop-sale-bration.html Toni Campana – http://www.stampinup.net/esuite/home/toni/blog?directBlogUrl=/blog/10706/entry/sale_a_brate Tamra Davis – http://www.theCardLadies.com/nc-demos-blog-hop-blends-meet-foil/ Jo Anne Hewins – http://luv2create.typepad.com/my_blog/2018/01/nc-demo-blog-hop-all-about-sale-a-bration.html Tracie Evans Langley – http://www.stampinup.net/esuite/home/traciesallaboutstamping/blog?directBlogUrl=/blog/86481/entry/nc_demos_january_blog_hop1 Laurie Meier – https://stampedgreetings.com/nc-blog-hop-its-the-most-wonderful-time-of-the-year/ Kat Spencer – http://www.papercraftingbykat.com/blog/nc-demos-sale-ary-2018-blog-hop/ Sue Stapp – http://www.stampinup.net/esuite/home/suestapp/blog?directBlogUrl=/blog/2152011/entry/nc_demos_blog_hop_january Kathy Svedberg – http://www.stampinup.net/esuite/home/craftykathy/blog?directBlogUrl=/blog/2159341/entry/nc_demo_blog_hop_for Frances Wagner – https://wagstamps.blogspot.com/2018/01/nc-blog-hop-sab.html Christina Walker – http://papergears.com/sale-a-brate-with-nc-demos